Maria Muldaur - Fanning The Flames (1996)
Maria Muldaur - Fanning The Flames (1996)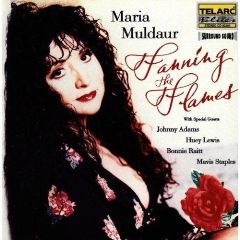 1. Home Of The Blues		4:21
2. Fanning The Flames		5:30		play
3. Trust In My Love			4:11
4. Somebody Was Watching Over Me	5:06
5. Heaven On Earth			5:15
6. Stand By Me			4:35
7. Talk Real Slow			4:20
8. Stop Runnin' From Your Own Shadow	4:31
9. Can't Pin Yo' Spin On Me		4:05
10. Brotherly Love			6:19
11. Well, Well, Well			4:55
12. Strange And Foreign Land	3:26	      play

Maria Muldaur, Johnny Adams, Bonnie Raitt, Mavis Staples (vocals)
Sonny Landreth (slide & steel guitars)
Cranston Clements (guitar)
Huey Lewis (harmonica)
Dave Torkanowsky (piano, Wurlitzer piano, Hammond B-3 organ, Fender Rhodes)
Hutch Hutchinson (bass)
Steve Potts (drums)
Bill Summers (congas, tambourine, cabasa, shaker, bongo)
Benita Arterberry, Lady Bianca, Lucy Anna Burnett, Don Bryant, Jon Cleary, Charlene Howard,
 Jennie Muldaur, Tracy Nelson, Charles Neville, Ann Peeples,
 Alisa Yarbrough (background vocals).

For those who only know of Muldaur through her 1974 hit "Midnight at the Oasis," please scratch that from memory. This lady can flat out sing! Although the CD insert art suggests a "pops orchestra" recording, don't let it mislead you; Muldaur belts out gritty blues and gospel and soulful R&B as very few can. She appropriately terms this musical gumbo "bluesiana." A crack band was assembled featuring longtime Muldaur guitarist Cranston Clements, Dave Torkanowsky on keyboards, and Hutch Hutchinson on bass. Guest singer Johnny Adams joins Muldaur on "Trust in Me," but the two really hit stride as they swap vocal licks on the boogie number "Heaven on Earth." Muldaur and gospel singer Mavis Staples spend themselves emotionally on the mournful duet "Well, Well, Well," accompanied by Clements and guest Sonny Landreth on slide and National steel guitars; rarely has a Bob Dylan song sounded as sweet and alive. ---Dave Sleger
Maria Muldaur may be best known for her 1974 mega-hit "Midnight at the Oasis" and the follow-up, the iconic anthem "I'm A Woman." But, her pop success aside, her 47 year career is best described as a long and rambling odyssey through various forms of American roots music. In her teen years she was part of the folk revival of the early sixties, and she grew up exploring and singing early blues, bluegrass, Appalachian old-timey music. Maria began her recording career in 1963 with the Even Dozen Jug Band, and shortly afterwards joined the popular Jim Kweskin Jug Band, recording five albums with them and touring the United States and Canada from coast to coast.
Her first self-titled major label solo album, Maria Muldaur, contained the unique and unusual chart topper, "Midnight at the Oasis," garnered her several Grammy nominations and enshrined her forever in the hearts of baby boomers everywhere. And in the 35 years since then, Maria has recorded 35 solo albums covering all genres of music, from blues to jazz to big band to gospel — and several acclaimed children's albums. Since the early 90's she has comfortably settled into her favorite idiom, the blues. ---amazon.com
download (mp3 @320 kbs):
yandex mediafire uloz.to solidfiles workupload
Zmieniony (Piątek, 07 Maj 2021 16:21)