Buddaheads - Play Hard (1996)
Buddaheads - Play Hard (1996)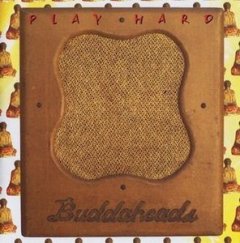 01. The Buddaheads - Crashin' In
02. The Buddaheads - Ain't It Time
03. The Buddaheads - One Domino
04. The Buddaheads - Somewhere & Sunset
05. The Buddaheads - Through My Eyes
06. The Buddaheads - Storms That Follow You
07. The Buddaheads - Just Like That
08. The Buddaheads - Dance Maria
09. The Buddaheads - Heaven In Between
10. The Buddaheads - I Feel Safe
11. The Buddaheads - Song No More

Make no mistake, BB Chung King & The Buddaheads are the original Los Angeles Version!
BB is always busy working on new Buddaheads material, but also finds time to write, record and produce for other artists. He has written songs for blues legends such as Lonnie Brooks, Coco Montoya, Shemekia Copeland and he helped Ruth Brown receive a Grammy nomination for her performance of his song, "Too Little, Too Late :. he also wrote and produced tracks with Grammy winning partner Dennis Walker, for the critically acclaimed Bettye Lavette album, A Woman Like Me".
You can hear the Buddaheads paying tribute to Lowell George. Together with Eddie Money, they perform the title track to the tribute album titled "Rock and Roll Doctor" (a song that appears as a bonus track on The Buddaheads "LIVE JAPAN" CD)
"PLAY HARD", the third full-length album, was released in Japan by Kiagan Records.
The fourth studio offering was, "GO FOR BROKE", a breathtaking collection of Rockin' Blues and power packed ballads. More great Buddaheads music can be found on their last studio release, "REAL".
The Buddaheads music can also be found in the following films: My Cousin Vinny, Heaven and Earth, Robocop II, Contact, Bring Down the Stars, Great Expectations, and Chuck Norris' Forest Warrior.
"I am thankful that I have the studio to work from when I am not on the road. It is the perfect place for me and the band to flesh out new ideas and it also makes a perfect living room environment for a blues-full jam when friends are in town", smiles BB.
BB was also busy with projects outside of The Buddaheads recordings last year. He finished mixing the Corby Yates record, which was released in Europe last April and started work on Belgian artist Boogie Boy, whose style and charisma is likened to music legend, Ray Charles. ---myspace.com
download:  uploaded anonfiles mega 4shared mixturecloud yandex mediafire ziddu
Zmieniony (Wtorek, 03 Wrzesień 2013 09:38)