Shirley Johnson – Killer Diller (2002)
Shirley Johnson – Killer Diller (2002)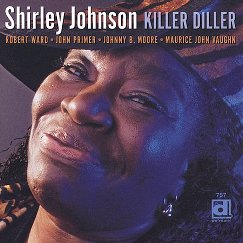 1.	Not for the Love of You
2.	Killer Diller          play
3.	Your Turn to Cry	
4.	Somebody Have Mercy	
5.	As the Years Go Passing By	
6.	No Deposit, No Return	
7.	Hard-Lovin' Mama	
8.	Blues Is All I've Got, The
9.	Little Wing	           play
10.	For You My Love
11.	Love Abuse	
12.	It Hurts Me Too
13.	Missed the Best Chance
14.	Saved

Personnel: 
Shirley Johnson (vocals); 
Roberta Thomas (vocals); 
John Primer, Johnny B. Moore, Maurice John Vaughn, Rockin' Johnny, Robert Ward (guitar); Hank Ford (tenor saxophone); 
Willie Henderson (baritone saxophone); 
Kenny Anderson (trumpet); 
Roosevelt Purifoy, Allen Batts (piano, organ); 
Baldhead Pete, Tim Austin (drums); 
Kelly Littleton (bass drum).

Just as a bluegrass festival might attract a country singer who's too country for country radio, Chicago's blues scene is a good place to hear classic soul singing in the '60s/'70s sense. For decades, soul has been an important part of the menu in many of the Windy City's blues clubs -- Chicago is full of talented blues singers who are also talented soul singers, and few of the city's blues clubs are going to reject someone simply because he/she doesn't stick to the 12-bar format 100 percent of the time. Soul, in fact, is an important part of what Shirley Johnson does on her first Delmark release, Killer Diller, which was recorded in 1996, 2000, and 2001. The gritty, big-voiced Chicago resident (originally from Norfolk, VA) offers plenty of Chicago-style electric blues on this CD, including "The Blues Is All I've Got" and Willie Dixon's "Killer Diller." But for Johnson, being blues-oriented doesn't mean being a blues purist, and she brings a healthy appreciation of classic, pre-urban contemporary R&B to "No Deposit, No Return" and Sam Cooke's "Somebody Have Mercy." Another highlight of the album is Jimi Hendrix's "Little Wing," which Johnson gives a somewhat Tina Turner-ish makeover. Johnson can also handle gospel, although she sticks to secular lyrics on Killer Diller (except for Leiber & Stoller's "Saved," which was a hit for LaVern Baker). No one will accuse Johnson of being an innovator; while Koko Taylor and Etta James were the leaders, Johnson is among the followers. But if Johnson is derivative, she's also expressive, highly enjoyable, and good at what she does. Anyone who has spent a lot of time listening to Taylor, James, and similar vocalists should have no problem getting into Killer Diller. ~ Alex Henderson
download:   uploaded anonfiles mega 4shared mixturecloud yandex mediafire ziddu
Zmieniony (Wtorek, 25 Czerwiec 2013 14:55)