Pepe Ahlqvist & UMO Jazz Orchestra – Mister Blues (2006)
Pepe Ahlqvist & UMO Jazz Orchestra – Mister Blues (2006)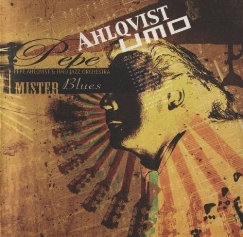 1. Don't Stare At Me 4'24 (P. Ahlqvist)
2. Shot From The Saddle 4'28 (J. Henson)
3. Senor Blues 7'07 (H. Silver)
4. Unfair World 6'12 (P. Ahlqvist–T. Nuorva)
5. Heal Me With The Blues 4'39 (T. Pratskin–P. Ahlqvist)
6. Come On Home 5'10 (W. Mitchell–E. Randle)
7. Dancemaster 5'18 (P. Ahlqvist–T. Nuorva)
8. A Cicada Of Chicago 4'18 (P. Ahlqvist–T. Nuorva)
9. No More Affection 4'53 (T. Pratskin–P. Ahlqvist)
10. Last Hope's Gone 5'43 (D. Sanborn–P. Butterfield–J. Hayne)
11. Ts & B's 3'38 (H. Rantanen–T. Nuorva)
12. A Blues Disease 3'44 (P. Ahlqvist)
13. So Excited 6'53 (R. B. King–G. Jemmott)

Pepe Ahlqvist: Lead vocals, lead guitar
Matti Lappalainen: Conductor

Umo Jazz Orchestra:
Pentti Lahti: alto sax, alto flute, flut (solos 3 & 6)
Mikko Makinen: alto sax, clarinet, flute
Teemu Salminen: tenor sax, clarinet, flute (solo 10)
Olli Ojajarvi: tenor sax. Flute (solos 1 & 8 )
Pepa Paivinen: baritone sax, bass clarinet, tenor sax (solo 13)
Jan Kohlin: trumpet, fluegelhorn
Timo Paasonen: trumpet, fluegelhorn
Mikko Pettinen: trumpet, fluegelhorn (solos 7 & 11)
Tero Saarti: trumpet, fluegelhorn (solo 3)
Markku Veijonsuo: trombone (solo 12)
Mikko Mustonen: trombone
Pekka Laukkanen: trombone
Mikael Langbacka: bass trombone
Seppo Kantonen: paino, hammond, fender rhodes, clavinet
Ville Huolman: bass
Markus Ketola: drums

Additional musicians:
Sade Rissanen: backround vocals
Veera Railio: backround vocals
Yka Putkinen: rhythm guitar
Olli Haavisto: slide guitar (12), rhythm guitar (5)
Abdissa Assefa: percussion

A distinguished member of the European blues elite, PEPE AHLQVIST (born on 4th of July 1956) is an internationally known Finnish blues artist. During his 40-year-long career he has frequently performed with many legendary blues artists.He has managed to maintain his popularity through the years by presenting fabulous and successful recordings with various bands and giving over 5.000 gigs and concerts.
Pepe Ahlqvist is considered a talented and personal singer-guitarist-harmonica player with individual style who also writes his own songs. Pepe began his career in the turn of the 1960's and 1970's. CHICAGO OVERCOAT, his band in the 1970's, thrived under the shield of the legendary Love Records, wherefrom Pepe moved on to collaborate with Fazer/Warner Music for a good period of time. In the late 1980's and early 1990's PEPE AHLQVIST H.A.R.P. recorded several indispensable albums.
Besides Finland, the Pepe Ahlqvist albums have been released for instance in the other Nordic countries and in Middle Europe. The last one of the three most important Pepe Ahlqvist bands, THE ROLLING TUMBLEWEED recorded four albums that represent the absolute cream of Finnish blues. Pepe's most recent project, SF BLUES (Suomi-Finland Blues) started in 2002 with singer/guitarist Heikki Silvennoinen . So far there's been featuring top guests, and more is to come.
Pepe has been touring in Sweden, Norway, Denmark, Holland, Belgium, Austria, Germany, Luxemburg, Estonia, Lithuania, Poland, Slovakia, Hungary, USA and Canada. He has also performed as a guest soloist in a large number of concerts by international blues legends in Finland, for example for B.B. King in 2004 and 2006. Nowadays Pepe Ahlqvist works as a solo artist from acoustic gigs to big band concerts. ---pepeahlqvist.com
download (mp3 @192 kbs):
uploaded yandex 4shared mega mediafire solidfiles zalivalka cloudmailru oboom
Zmieniony (Niedziela, 05 Kwiecień 2015 17:05)