Tina Schlieske - Slow Burn (2005)
Tina Schlieske - Slow Burn (2005)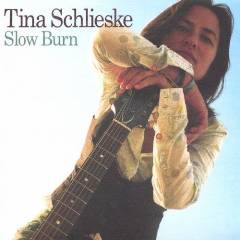 1. Come On In	4:44 	
2. Love Everlasting	3:55 	
3. Adeline	5:05 	
4. Scars of a Slow Burn	4:35 	
5. Babyblue		4:05 	
6. Honey Baby Sweetie	2:49 	
7. Never Knew Love	6:34 	
8. Hardly Tell	5:05 	
9. Slow Down	4:29 	
10. Son of a Gun	5:00 	
11. For the World to See	4:43 	
12. Everyday	5:54 	
13. I Don't Want to Say Good-bye	3:39

Fran Banish - Guitar (Electric)
David Blumberg - String Arrangements
D.J. Bonebrake - Vibe Coordinator
Lisa Bourne - Vocals (Background)
Daphne Chen - Violin
Richard Dodd - Cello
Catherine Feeny - Vocals (Background)
Shane Fontayne - Guitar (Electric)
Danny Frankel - Percussion, Washboard
Sheldon Gomberg - Bass, Engineer, Mixing, Producer
Billy Hawn - Percussion
Don Heffington - Drums, Percussion
Rami Jaffee - Keyboards
Leah Katz - Viola
Greg Leisz - Guitar (Steel)
Jerry Peterson - Saxophone
Laura Schlieske - Vocals (Background)
Tina Schlieske - Guitar (12 String), Guitar (Acoustic), Vocals
Chris Spedding - Guitar (Electric)
Garrison Starr - Vocals (Background)
Benmont Tench - Keyboards
C.C. White - Vocals (Background)
Jeff Scott Young - Keyboards, Vocals (Background) 

Tina Schlieske, originally hails from Minneapolis, MN and is best known for fronting the band Tina and the B-Side Movement, now Tina and the B-Sides.
As a child of Lithuanian immigrants, she spent her formative years in the Mid West, fertile territory for an inspired teenager to absorb and blend all the local musical influences of rock 'n' roll, gospel, blues and dusty Americana. Pursuing every avenue she came across from the glam rock of Bowie and T Rex, the showmanship of Elvis, the soul music of Aretha to the singer-songwriters of Joni Mitchell et al. Tina honed her skills, writing songs and playing every bar, club and festival that would have her.
Endless touring helped her cultivate not only a dedicated following but a distinctive, blues driven and raspingly passionate vocal style reminiscent of Janis Joplin. She released several albums on her own label Movement Records with the B-Sides and soon signed a major record deal with Sire Records in 1996.
Schlieske moved permanently to California to bring up her family while continuing to travel the country doing solo acoustic shows.
She formed and played with several other bands, Lola and the Red Hots (now Lola and the Red Family Band), Tina's Elvis and most recently California-based, Tina Schlieske and the Graceland Exiles.
Also during that time Double Trouble (Stevie Ray Vaughn's band) asked her to tour singing lead and playing rhythm guitar in support of their 2001 album "Been A Long Time". She garnered rave reviews as the bands front woman touring that summer in the States and Canada with popular blues artist Kenny Wayne Sheppard.
In 2005 Tina released her first solo album produced by Sheldon Gomberg, "Slow Burn" which features such renowned musicians as Don Heffington (Dylan, Emmy Lou Harris), Benmont Tench (Tom Petty), Marc Ford (The Black Crows) and Rami Jaffe (The Wallflowers). To her enduring thrill, she even had Elvis Presley's guitarist James Burton play on two of the tracks. ---tinaschlieske.com
download (mp3 @224 kbs):