Furry Lewis - On The Road Again (1969)
Furry Lewis - On The Road Again (1969)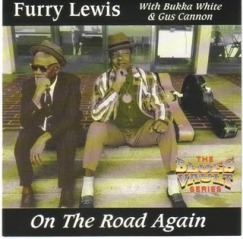 1.	On the Road Again
2.	My Wife Is Getting Old
3.	Why Don't You Come Home Blues
4.	Lela
5.	Oh Babe
6.	I've Got a Bird to Whistle
7.	Give Me an Old Lady
8.	Furry's Worried Blues
9.	Gibson Hill
10.	Goin' Back (To Memphis, TN)

Personnel: 
Furry Lewis (vocals, guitar, effects); 
Bukka White (vocals, National Steel guitar); 
Gus Cannon (vocals, banjo); 
Mike Stewart (guitar).

This 1969 recording captures a relaxed blues session of Furry Lewis, Bukka White, and Gus Cannon that is full of warmth and gentle humor. These unwound acoustic tunes are sung and played neither for dancing to nor for damning you, but instead capture a mood akin to early-evening song swapping among these old-time gentlemen of country/folk blues. The elder of the group, Cannon (of Cannon's Jug Stompers), sings two tunes here -- "Lela," and "Goin' Back (to Memphis, TN)" -- while his uniquely tuned banjo accompanies him on a few more. White's playing is Mississippi Delta slide all over his National guitar, and his voice is a gruff box that straightens just a little for the kind teasing in "Give Me an Old Lady." The majority of the tracks come from Lewis, whose fuzz-edged voice delivers in a close, familiar manner that comes off as an unassuming performance for a couple of friends. On the Road Again is an endearing bit of kicking-back by some seminal bluesmen. --- Joslyn Layne, Rovi
download:   uploaded 4shared ziddu divshare mediafire hostuje
Zmieniony (Czwartek, 21 Marzec 2013 14:22)