Studebaker John's Maxwell Street Kings - Kingsville Jukin' (2013)
Studebaker John's Maxwell Street Kings - Kingsville Jukin' (2013)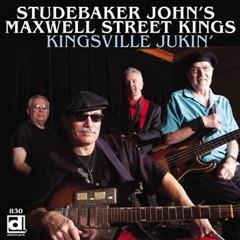 01. Mississippi To Chicago — 4:06
02. When They Played The Real Blue — 3:54
03. She's Allright — 4:44
04. Shake It Down Now — 4:51
05. The Rest Is Up To You — 4:35
06. I'm A Houserocker — 4:38
07. Howlin' In The Moonlight — 4:53
08. In Case Of Fire — 5:45
09. Ride Again — 4:42
10. Kingsville Jukin' — 3:28
11. Wicked Soul — 4:44
12. Cold Black Night — 6:08
13. Mojo Hand — 4:46
14. Shake Some For Me — 3:56
15. Right Tonight — 4:24
16. Bad Gasoline — 3:09

Steve Cushing - Drums
Bob Halaj - Bass
Rick Kreher - Guitar
Studebaker John - Guitar, Harmonica, Vocals

Many blues artists are taking their music in a more contemporary-friendly direction, nearly devoid of the scholarly dedication to their deepest heritage seen in past decades. On the other hand, "Studebaker" John Grimaldi is happy going the opposite way. Continuing a debt of gratitude to his beloved, gravel 'n grit Chicago street-corner boogie, John digs even deeper into the primordial blues ooze for Kingsville Jukin'.
Studebaker John's specialty is basically an urbanized, rough-necked bastardization of Mississippi Hill Country blues, set to an ice-cool, backstreet attitude. John and the boys are well-versed in big city blues of all varieties, like the Jimmy Reed shuffle of "When They Played The Real Blues." However, the cuts with real teeth are the crude slices of frayed-speaker wreckage, like "She's Alright," and "I Am The Houserocker," both of which could have been plucked from some lost, roaring Hound Dog Taylor session over a case of Schlitz. The utilization of gloriously analog relics like 1950's RCA ribbon mics and Ampex tube tape recorders ensures authenticity.
Other standouts like "Wicked Soul" are instantly trance-like, with an impulsive snare drum monotony opening up a potentially endless jam; a few simple notes inducing the listener's most primitive shivers of nirvana.
There is perhaps no better champion of the classic, rolling-stoned Maxwell Street beat. Studebaker John shuns the 12-bar norm for one heck of a dirt-under-the-nails good time. --- Mark Uricheck, elmoremagazine.com
download (mp3 @320 kbs):
yandex 4shared mega mediafire cloudmailru uplea