Studebaker John & The Hawks – Rockin' The Blues (1985)
Studebaker John & The Hawks – Rockin' The Blues (1985)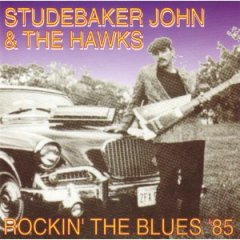 01 Come On                          play
02 Rockin' The Blues
03 She Knows She Got A Good Thing   play
04 I Heard Talk
05 That Cadillac - You're Fine
06 She Gets Me
07 Studebaker '63
08 Boogie Feelin'
09 Pleasure And Pain
10 Can't Help Myself
11 Low Rider

Personnel:
Studebaker John - Vocals,Slide Guitar,Harp
Rick Kreher - Guitar
Ron Regnas - Bass
Bob Carter - Drums
Ken Nelson - Guitar on "Harpomatic"

Studebaker John's father was an amateur musician, and he played early in life at the Maxwell Street flea market. Grimaldi began playing harmonica at age seven. In the 1970s he put together his band, the Hawks, and worked as a construction worker while recording and performing on the side. He recorded extensively for Blind Pig Records in the 1990s. Grimaldi counts Hound Dog Taylor as the reason he began playing slide guitar. Atom Egoyan choose three of John's songs for his 1993 film Calendar, and included two songs in his 1994 film Exotica
In 1978, Studebaker John and the Hawks recorded their first album. John produced their next release, Rocking The Blues, which was released in 1985 and reissued in Europe in 1992 by Double Trouble.
download:   uploaded anonfiles mega 4shared mixturecloud yandex mediafire ziddu
Zmieniony (Sobota, 06 Lipiec 2013 10:46)