Charles Brown – Driftin' Blues - The Best of (1995)
Charles Brown – Driftin' Blues - The Best of (1995)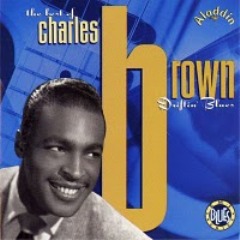 01. Driftin' Blues 3:15                play
02. Homesick Blues 3:11
03. Get Yourself Another Fool 3:03
04. In the Evening When the Sun Goes Down 2:56
05. A Long Time 3:35
06. It's Nothing 2:51
07. Trouble Blues 2:23
08. My Baby's Gone 3:08
09. Black Night 2:56
10. I'll Always Be in Love With You 3:02
11. Seven Long Days 3:10
12. Hard Times 2:46
13. Evening Shadows 2:58
14. I Lost Everything 2:56
15. Lonesome Feeling 2:43
16. Cryin' Mercy 1:58                  play
17. I've Been Savin' My Love for You 2:47
18. Fool's Paradise 2:22
19. Please Don't Drive Me Away 2:19
20. Merry Christmas, Baby 2:53

Charles Brown (vocals, piano).

DRIFTIN' BLUES contains 20 tracks originally released in the late 40s and early 50s by the Imperial and Aladdin labels. Digitally remastered by Ron Furmancek (1991, Capitol Studios, Hollywood, California).
With Charles Brown's career resurgence in the last decade of his life, he was discovered by an entirely new audience. What many of his new fans didn't know--and what this set clearly delineates--is what a huge commercial success he was in the late '40s and early '50s. Furthermore, his style emerged more or less fully formed on his first recordings, where Brown sang and played piano with Johnny Moore's Three Blazers. At the age of 25, Brown's "Driftin' Blues" went to number two on the R&B charts, but Brown was soon to leave Moore's trio. Most of these 20 songs were recorded for the Aladdin label, where Brown enjoyed a successful run for several years before departing in 1956 for other labels. This collection of timeless music makes clear why Charles Brown was a model of style and grace.
download (mp3 @320 kbs):
yandex mediafire ulozto gett hostuje bayfiles
Zmieniony (Czwartek, 08 Październik 2020 13:00)