Eddie Taylor - Bad Boy (Charly Blues Masterworks Vol.35) [1993]
Eddie Taylor - Bad Boy (Charly Blues Masterworks Vol.35) [1993]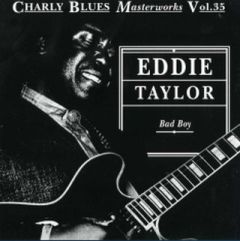 1. Bad Boy
2. ET Blues
3. Ride 'em On Down
4. Big Town Playboy
5. You'll Always Have A Home
6. Don't Knock At My Door
7. I'm Gonna Love You
8. Looking For Trouble
9. Find My Baby
10. Stroll Out West
11. I'm Sitting Here
12. Do You Want Me To Cry
13. Train Fare
14. Leave This Neighbourhood
15. Somethin' For Nothin'

Mississippi is known for its many blues musicians, and Eddie Taylor is one of these artists. Although he often found himself in Jimmy Reed's shadow, he was a great guitar player. Eddie Taylor was born to Joseph Taylor and Mamie Gaston iJanuary 29, 1923. His mother and father separated when he was young, and Taylor had to stay home from school and work on his mother's farm in Benoit, Mississippi. In 1936 he got his first guitar and taught himself how to play it. His son, Eddie Taylor, Jr, said in a recent interview that his father was a natural guitar player.
Taylor's playing style became that of the delta tradition (All Music Guides). Listening to the music of his favorite musicians, Charley Palton and Robert Pelway, pushed Taylor to try harder. Little did Eddie Taylor known that he would eventually grow into a great blues guitarist. In 1949, Eddie Taylor moved to Chicago where he began working with Jimmy Lee Robinson in Jake's Tavern. Club Jumboree was another club Taylor played. According to one source, a blues man named Freddie King moved north to Chicago in his mid-teens., and in 1950 became influenced by local blues guitarists Eddie 'Playboy' Taylor and Robert Lockwood. King absorbed elements from both of these blues men's styles before he added elements of Magic Sam and Otis Rush. Taylor himself began playing behind Jimmy Reed in 1953. This fact is interesting because Eddie Taylor taught Jimmy Reed to play guitar back in Leland, Mississippi. Eddie Taylor primarily became known for playing with Jimmy Reed.
During the 1970s Big Bear Records steadily built a worldwide reputation with its now-legendary recordings of important American blues men like Doctor Ross, Homesick James, Lightnin' Slim, Big John Wrencher, Snooky Prior, Tommy Tucker, Eddie Playboy Taylor, Eddie Guitar Burns and others. Even though Eddie Taylor is known for playing with Jimmy Reed, he did make solo albums.He got a chance to show his vocal skills through songs like "Ready for Eddie," "I Feel So Bad," and "Big Town Play Boy" (All Music Guides).His best-known solo album is I Feel So Bad. Eddie Taylor was underrated while he was alive, and Chaos Music states, "Eddie Taylor was never a self-promoter, and he has probably sold more records since his death in 1985 than while he was alive. His son Edward released a tribute album in 1998.
Eddie Taylor had eight children. His first child, Brenda Taylor, was born in 1963. In the interview Eddie Taylor Jr. said about his sister, "She likes to joke around." Vera's first son, Larry Taylor, was born in 1955 and was taught to play drums by Howlin' Wolf's drummer Cassell Burrows. Eddie Taylor's first son, Timothy Taylor, was born in 1965, and he also plays drums. Edna Taylor, who was born in 1967, likes to sing. Valicia Taylor was born in 1969. Edward Taylor, Jr., a guitarist like his father, was born in 1972. Born in 1975 was Demetria Taylor, who enjoys playing the drums. Milton Taylor was the last born in 1975. He plays the drums also.
In conclusion, Eddie Taylor was a great guitarist and father. Eddie Taylor died on Christmas day, December 25, 1985, in Chicago. ---Christopher Miles, mswritersandmusicians.com
download (mp3 @320 kbs):
yandex 4shared mega mediafire uloz.to cloudmailru uptobox ge.tt