Rico's Gruv - Play Guitar Like A Girl (2011)
Rico's Gruv - Play Guitar Like A Girl (2011)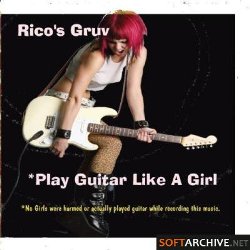 01. Swampeye				play
02. Rock Da' Blues
03. Bad Habits
04. Obsessed
05. Play Guitar Like A Girl
06. Road Walk Blues			play
07. Head Over Heels
08. Wayfaring Stranger
09. Long Dead

Rico's Gruv is Richard "Rico" Kelly, an Austin Texas based performing and recording guitarist and songwriter.
Rico has taken his inspiration an motivation from other Texas blues stringers such as Stevie Ray Vaughan and Billy Gibbons, on a sonic quest to produce heavy gruvin' bluesy music with big Texas tone and Austin attitude. Not beholden to past expression or styles, Rico generously blends in rock, country, funk, and even a bit of jazz influence.
Rico is currently joined by Denzil Warner on Bass and Will Eversden on drums, with occasional performances by local keyboardists Rigel Thurston and fiddler David Nelson.
His first CD release "Rico's Gruv Rockin' Blues The EP" also featured Roe Fleenor on harmonica. ---cdbaby.com
download:   uploaded anonfiles mega 4shared mixturecloud yandex mediafire ziddu
Zmieniony (Wtorek, 18 Czerwiec 2013 12:51)