Anders Osborne - Spacedust & Ocean Views (2016)
Anders Osborne - Spacedust & Ocean Views (2016)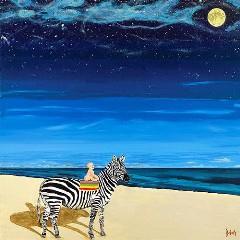 1 	Pontchartrain	4:47
2 	Life Don't Last That Long	4:37
3 	Lafayette	3:58
4 	Cape Cod	6:10
5 	Wind	4:47
6 	All There Is To Know	3:57
7 	Can You Still Hear Me	3:17
8 	Move Back To Mississippi	6:21
9 	Burning Up Slowly	3:45
10 	Tchoupitoulas Street Parade	4:55
11 	Big Talk	5:43
12 	From Space	6:09
 
Bass – Carl DuFrene
Bass [Upright] – James Singleton
Drums – Brady Blade, Johnny Vidacovich
Drums, Percussion – Tony Leone
Guitar [Additional] – Scott Metzger
Keyboards, Vocals [Additional] – Ivan Neville
Piano, Organ [Wurlitzer], Organ [Hammond B3] – John 'Papa' Gros*
Producer, Vocals, Guitar, Keyboards – Anders Osborne
Saxophone, Flute – Rex Gregory
Strings – Stevie Blacke
Trombone, Flugelhorn – Mark McGrain
Vocals [Additional] – Tiffany Lamson

Anyone who has experienced Anders Osborne in concert knows he can burn it up with guitar shred fireworks like Neil Young and Crazy Horse on an inspired night. Not surprisingly the trilogy of impressive — some may say career defining — albums he released on Alligator starting in 2010 highlighted that aspect of his talents. But Osborne has split from the label and the first indie release on his new imprint makes a clear sonic break with those discs too.
Instead of growling guitar rave-ups, Osborne sinks into a comfy, bittersweet and introspective vibe. Opening track "Pontchartrain" with barely there heartbeat-like tom-toms, a laid back circular guitar figure and Osborne repeating "I am a burning man" with wistful resignation, sets the stage for the remaining 11 selections. They follow a similar formula albeit with different, often beautifully layered instrumentation that includes subtle horns, reeds, keyboards and on the exquisite ballad "Cape Cod," an overdubbed string quartet which makes the song arguably Osborne's most sensitive and lovely composition.
Clearly Osborne is in reflective mode, even when the pace picks up in the low boil funk of "Wind" and the swampy crawl of "Move Back to Mississippi," the disc's toughest and most gospel inspired moment. He laments for a lover, now in heaven with a bluesy guitar break on the heartbreaking and emotional "Can You Still Hear Me?" made even more sensitive by strings that delicately swell at the song's end. On the self-explanatory "Burning Up Slowly" we feel his angst trying to understand the flow of life set against sparse guitar, bass drum backing that along with his yearning voice is all the song needs to get its message across.
A cornucopia of top Louisiana session pros such as drummer Johnny Vidacovich, Ivan Neville and Brady Blade are credited but not with which song they contribute to. The closing spoken word with sparse, jazzy backing "From Space" brings in Rickie Lee Jones to add vocals on the disc's most poetic, unusual and avant-garde piece that seems to be at least partially narrated by an alien.
How this will be received by Osborne's fans who may be expecting something a bit more demonstrative based on his previous output remains to be seen. But give the singer-songwriter credit for shifting direction to follow a muse that is very much in evidence on this stirring set. ---americansongwriter.com
download (mp3 @320 kbs):
yandex mediafire ulozto gett bayfiles