Billy Price - Strong (2013)
Billy Price - Strong (2013)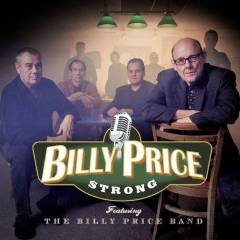 1. Drivin' Wheel (feat. The Billy Price Band) 		4:34 	
2. Can't Leave It Alone (feat. Mark Wenner) 		3:57 
3. Sweet Soul Music (feat. Fred Chapellier) 		4:11 
4. Gotta Be Strong 			3:58 	
5. The Lucky One 		4:35 	
6. Let's Go for a Ride 		4:32 	
7. Never Get Enough (feat. Mark Stutso) 		3:18 	
8. Diggin' a Hole 	3:31 	
9. Part Time Love (feat. Monster Mike Welch) 		5:15 	
10. I've Got Love On My Mind 		4:22

Billy Price's first studio recording since 2009 featuring Billy and the Billy Price Band along with special guests Monster Mike Welch, Fred Chapellier, and Mark Wenner and Mark Stutso of the Nighthawks.
Strong features six songs co-written by Billy Price with French blues guitarist Fred Chapellier and Billy Price Band keyboard player Jimmy Britton. Also included are covers of songs by Roosevelt Sykes, Fred Chapellier, Bobby Byrd, and Little Johnny Taylor.
Billy Price, east coast blue-eyed soul man, has been entertaining audiences for the past four decades. In his hometown of Pittsburgh, Pa., he is an institution. Price's popularity isn't hard to explain. As Geoffrey Himes of the Washington Post has written, "Unlike so many blues revivalists, Price is not an imitation of older, better singers--he's the real thing."
Price formed The Billy Price Band in 1990. In addition to performing popular songs from Price's years with Buchanan and the Keystone Rhythm Band, the Billy Price Band features new interpretations of blues, R & B, and soul classics. Members of the Billy Price Band are Steve Delach (guitar), Jason Hollar (bass), Dave Dodd (drums), Jimmy Britton (keyboards), Joe Herndon (trumpet), Eric DeFade (tenor sax), and Bob Matchett (trombone). -–cdbaby.com
download: yandex 4shared mediafire solidfiles mega
Zmieniony (Czwartek, 03 Wrzesień 2020 10:23)