Black Cat Bone - First, Second, Third ... Early Years (2005)
Black Cat Bone - First, Second, Third ... Early Years (2005)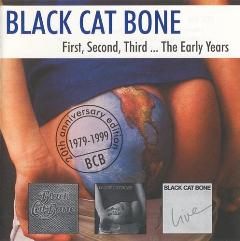 CD1
01. Sagebock Boogie
02. Without You I Can Make It
03. Worried Dream Blues
04. Pack It Up
05. Slide Rider
06. Woke Up This Morning
07. Greece
08. Mandolin Boogie
09. Running The Highway
10. Semm'r jetzt drei
11. Net daß i di net gern hätt
12. So a Glück
13. Manchmal morgens
14. I denk wirklich gern an di

CD2
01. Am Arsch der Welt
02. Warom hot mir koiner gsait
03. Mir ka koiner helfa
04. Mal wieder nicht dabei
05. Intro / Slow Blues
06. Hideaway
07. No koi Hetik
08. Rockstar
09. I ain't got you
10. Weil's Business so beschiss'n iss
11. Egon
12. D'r Dumpf isch raus
13. Slide Rider

Musicians:
Hans-Jörg McMinamin [Hans-Jörg Müller] (guitar, vocals, keyboards), 
Stephan Wegner (bass, vocals), 
Linus Wahl (keyboards), 
Uli Wagner (drums).

Black Cat Bone is a Southern Germany's best blues-rock group. The band formed in 1979 based around an excellent guitarist and singer, Hans McMinamin. Countless concerts in Germany and neighbouring European countries, in addition to their appearance at the Montreux Jazz Festival have proved that their reputation as an extraordinary live band is well-earned. A variety of Blues legends such as Katie Webster, Alvin Lee, Mick Taylor, Sidney "Guitar Crusher" Selby or Rick Derringer were so impressed by the band, they booked them to tour with them as support. "First, Second, Third ... Early Years" was initially issued for band's 20th Anniversary and compiled three early album of this group.
download (mp3 @320 kbs): gett: CD1 CD2
yandex mediafire ulozto bayfiles
Zmieniony (Czwartek, 03 Wrzesień 2020 15:35)