Chicago – The Blues Yesterday Vol.1
Chicago – The Blues Yesterday Vol.1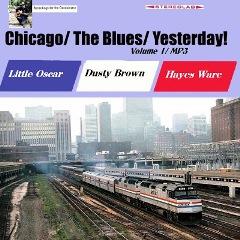 01. Suicide blues
02. Empty bottles

Little Oscar (Oscar Stricklin) – vocals, guitar + band
Chicago, 1967

03. Gotta make a change
04. Two foot drag

Little Oscar - vocals, guitar
Freddy Robinson -  guitar
+  band
Chicago, 1969

05. The message
06. I tried

Little Oscar - vocals, guitar + band
Chicago, 1973

07. Yes she's gone
08. He don't love you
09. Rusty Dusty
10. Hurry home

Dusty Brown (C.V. Triplett) – vocals, harmonica
Joe Little – guitar
Henry Gray – piano
Johnny Sturdivant – drums
Chicago, 1 october 1955

11. Please don't go
12. Well you know I love you
13. Do you love me?
14. Will you forgive me baby?

Dusty Brown  – vocals, harmonica
Hip Linkchain – guitar
Jug Linkchain - bass
Bob Richey – drums
Chicago, 1958

15. You got me mamma

Hayes Ware – vocals, bass,  guitar,  drums
Chicago, 20 february 1975

16. Fishin'
17. I can't hide my love
18. Little Sally Walker
19. Ride high

Hayes Ware – vocals, guitar
Billy Branch – harmonica
Craig Walton – bass
Herman Shorty Gary – drums
Chicago, may1979

This ongoing series Chicago/ The blues Yesterday is dedicated to obscure bluesmen who waxed a handful of singles, sometimes an LP, that were mostly self produced, on very small labels. Those were rarely sold outside some stores in Chicago or more often from the bandstand by the artists themselves. Nevertheless, those bluesmen were part and even instrumental in making alive the true Chicago blues scene when there still were neighbourhood bars presenting blues for African Americans patrons. Coming quite often in the USA during the 70's and 80's, I had the opportunity to see some of those bluesmen, chatting with them and buying their records. They had sometimes hope of greater fame, wanted very much to tour overseas, asked me to do something for them. But unfortunately, in most cases, they stayed in obscurity.
Little Oscar Stricklin' is famous for his wonderful Suicide blues, a great modern blues a la Buddy Guy. But he made much more than this only title, three blues singles you'll find here and, after that, during the 70s and 80s, he changed his style for a more Funk and Disco approach under the moniker of Little O (not to be confused with the other much younger Little O, a hip hop artist). He has just resurfaced from nowhere and seems to be in great blues form. Let's hope he will be able to record the whole blues album he is certainly able to do. On Delmark for instance?
The harp player Dusty Brown (born in 1929) is much better known, having recorded a handful of 45's. He even toured France in 1972 (with Johnny Shines and Luther Johnson) but this didn't do much for him. He managed a Lounge for awhile, went back to Mississippi for years and resurfaced in the 1990's, recording several excellent tracks, particularly on the anthology Chicago Blues Harmonica Project.
Bassist, singer and sometimes guitarist Hayes Ware (from Ruleville, in the heart of the Mississippi Delta) was in the studios as an accompanist on numerous sessions during the 60's and 70's, played regularly with Hip Linkchain and waxed two 45's and an odd album that features Billy Branch in great form. --- Gérard Herzhaft, jukegh.blogspot.com
download (mp3 @320 kbs):
uploaded yandex 4shared mega mediafire solidfiles zalivalka cloudmailru oboom