Chicago – The Blues Yesterday Vol.2
Chicago – The Blues Yesterday Vol.2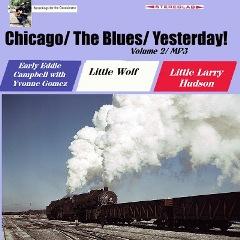 01. All nite I & II

Eddie C. Campbell – guitar
Melvin Brown – pno
Sylvester Boines – bass
Lester Dorsey – drums
Chicago, 1968

02. Soup bones
03. Sleepin' the monkey

Eddie C. Campbell – guitar, vocals + band
Chicago, c. 1968

04. Ease the pain
05. My man a go-go

Eddie C. Campbell – guitar
Yvonne Gomez – vocals
+ band
Chicago, c. 1968

06. The Wolf won't howl no more
07. Mama talk to your daughter
08. Stop ducking on me
09. Every girl I see
10. Put it all in there
11. Sex appeal
12. You can't keep her long
13. Shake for me

Littlle Wolf (Jesse Sanders) – vocals
Buster Benton – guitar
Dennis Miller – guitar
Johnny B. Moore – guitar
Billy Branch – harmonica
Freddy Dixon – bass
Clifton James – drums
Chicago, 1976

14. Ride with me

Little Larry Hudson – vocals, guitar + band
Des Moines, Iowa. Late 60's

15. Land of dog eat dog
16. Strong constitution

Little Larry Hudson – vocals, guitar
prob. Reggie Boyd – guitar + band
Chicago, 1975

The second volume of Chicago/ The blues yesterday brings to your attention two little known blues artists plus the early works of the great bluesman Eddie Campbell who has recorded such masterpieces album like King of the Jungle (certainly one of the best LP to come out from Chicago in the 70's), Let's pick it or his recent Delmark effort Spider eating preacher.
I've had the great pleasure to meet several times Eddie when he was living in Europe, touring with the very good French blues band of Tao Ravao featuring harmonica ace Vincent Bucher. A great gentleman and a fantastic showman, Eddie was also very friendly and willing to share recollections of his musical career, drawing striking sketches of the Chicago blues scene. The three singles he did for the tiny Hawaii label in the late 60's are very hard to find and have (to my knowledge) never been reissued anywhere in any form. One of this 45 feature Eddie with the mysterious singer Yvonne Gomez.
Little Wolf (born Jesse Sanders 26 June 1930 in Florence, Ms) was altogether a Chicago police officer for 47 years while singing the blues in the Windy City clubs. Married to Howlin' Wolf's niece Diane, Jesse brought the attention of Willie Dixon who was trying to find new talents for his fledgling Yambo label. Rebaptized by Dixon Little Wolf, Jesse recorded the modest hit but striking blues The wolf won't howl no more after Howlin' Wolf's death. This single was then featured on a whole album that I bought directly at Willie Dixon's small Chicago office. I don't think this fairly good album (featuring such luminaries as Buster Benton, Johnny B. Moore and Billy Branch) has ever been distributed outside Chicago. It has been said that Jesse made also another album for Bobby Rush which is very hard to find (thanks to Pierre Monnery who located one copy of this!). After his retirement from the Chicago Police Department, Jesse Sanders relocated in Memphis where he made some public appearances. It is not known if he is still alive.
Little Larry Hudson is an almost complete unknown. A singer and guitarist, he seems to hail from Des Moines, Iowa where in the late 60's he recorded a single for the very short-lived Success label. A few years later, he was performing in Chicago (generally with the L.C. Roby band) and waxed another 45 in a much more Soul-oriented style. ---Gérard Herzhaft, jukegh.blogspot.com
download (mp3 @320 kbs):
uploaded yandex 4shared mega mediafire solidfiles zalivalka cloudmailru oboom