Chicago - The Blues Yesterday Vol. 5
Chicago - The Blues Yesterday Vol. 5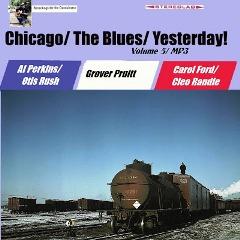 01. You cost too much
02. Please come back

Al Perkins – vocals, guitar
Luther Tucker – guitar
Detroit Jr – piano
+ band
Chicago, 1960

03. I feel alright
04. It's good enough

Al Perkins – vocals, guitar
Burgess Gardner – trumpet and His Orchestra
Chicago, 1962

05. Homework

Al Perkins – vocals
Betty Bibbs – vocals
Luther Tucker – guitar
+ band
Chicago, 1965

06. Yes my goodness yes
07. So long

Al Perkins – vocals + band
Chicago, 1969

08. I don't want to lose I & II
09. I'm so thankful

Al Perkins – vocals
Willie Mitchell band
Memphis, Tn. 1972

10. Homework
11. I have to laugh

Otis Rush – vocals, guitar
Mighty Joe Young – guitar
King Kolax, Sonny Turner, Maury Watson – trumpet
Monk Higgins – trombone
Johnny Board, Abb Locke – tenor saxophone
Lafayette Leake – organ, piano
James Green – bass
Casey Jones – drums
Chicago, Ill. 6-7 september 1962

12. Cleo's back

Abb Lock – tenor saxophone
Otis Rush – guitar + band
Chicago, 1983

13. Mean train
14. Fool for you baby

Grover Pruitt – vocals, guitar
Freddie Roulette – guitar, bass, drums
Chicago, 1959

15. Shake the flea
16. Little girl

Grover Pruitt – vocals, guitar + band
Chicago, 1969

17. Run baby
18. Your well ran dry

Carol Ford – vocals
Lafayette Leake – piano
Mighty Joe Young – guitar, bass, drums
Chicago, 1964

19. Big city lights
20. The best man I ever had
21. You got everything

Cleo Randle – vocals
Mighty Joe Young – guitar + band
Chicago, 1966-67

This 5th volume of our Chicago/ The blues yesterday series starts with the singer/guitarist/producer Al Perkins (born august 1st 1930 in Brookhaven, Ms) who enjoyed some success during the 60's with his brand of blues and Soul. He waxed some 45s for several Chicago (USA, C.J.), Detroit and Memphis (Hi) labels, particularly his duet with Soul singer Betty Bibbs, Homework, his own composition that has been made famous through versions of Otis Rush and Fleetwood Mac. A noted Detroit DJ, Perkins seemed to deal also with other more underground businesses and, for that, was shot to death in the streets of Detroit on February 13th, 1983.
Thanks to our friend Jose Yrrabera, we can post the very rare Otis Rush's Duke 45 (Homework/ I have to laugh). Unfortunately, Otis recorded also several other titles during this session that are laying in some vaults to the despair of blues buffs from all over the world! We also have included in this anthology Cleo's back from 1983 by saxophonist Abb Locke in which Otis takes a superb guitar solo.
Grover Pruitt who recorded one 45 for Laredo (Mean train) was long thought a young white rockabilly singer. In fact, he is a black bluesman from Chicago. After this single, he went onto the West Coast, waxed another very rare single there (Chain gang farm: if anybody owns it, please send a .mp3 copy!!), then came back to Chicago, recorded another excellent (and also rare) 45 for Salem (Shake the flea/ Little girl) and drifted into obscurity. He resurfaced some years ago, playing in the Chicago clubs. It would be nice if anyone out there could interview him and - why not? - make him record a whole album?
Carol Ford is one of those numerous soul/blues singers that tried to get a break in the Chicago scene and then disappeared. Her juicy Run baby (with the wonderful Mighty Joe Young) deserves to be heard. At last, Cleo Randle recorded a good blues 45 (again with Mighty Joe Young) before recycling herself into the Gospel world.
Thanks again to all those who constantly loan me and share their precious original records: Alain M., Pierre Monnery, Hartmut Münnich, Paul de Bruycker, Jean Ballerin and of course Jose, Fonsoul and all the others...
As usual, all your remarks and such are welcomed... This is the only way for me to know if this work is really useful. --- Gérard Herzhaft, jukegh.blogspot.com
download (mp3 @320 kbs):
uploaded yandex 4shared mega mediafire solidfiles zalivalka cloudmailru oboom