Chicago - The Blues Yesterday Vol.7
Chicago - The Blues Yesterday Vol.7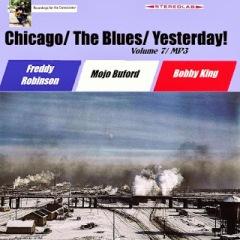 01. The buzzard
02. The hawk

Freddie Robinson – guitar
Paul Hankins – organ
Wardell Reese – tenor saxophone
Jerry Brown – bass
Billy Davenport – drums
Monk Higgins – percussion
Chicago, 1961

03. Oh what a party
04. Slow motion
05. Many moons

Freddie Robinson – guitar
Monk Higgins – piano
James Green – bass
+ band
Chicago, July 1962

06. Go go girl

Freddie Robinson – guitar, vocals
Eddie Bradley – trumpet
Jimmy Newman – alto saxophone
Ralph Johnson – tenor saxophone
Monk Higgins – piano
Richard Lovelace – bass
Hasson Miah – drums, vocals
Chicago, May 1966

07. Somebody knockin'
08. Standing on the corner
09. Chi Four blues
10. Knocking on the door

Mojo Buford – vocals, harmonica
Dave Copperstrand – guitar
JoJo Williams – guitar
Marcus Wilson – tenor saxophone
Jerry DeOtis – bass
S.P. Leary – drums
Minneapolis, April 1963

11. The morning before day
12. Mo Jo woman
13. My mojo's working
14. She's a whole lots a woman

Mojo Buford – vocals, harmonica
Sonny Boy Rodgers – guitar
JoJo Williams – bass
Francis Clay – drums
Artis Hopkins – vocals
Minneapolis, 1964

15. Cheapskate
16. So nice to be loved
17. Thanks Mr Postman
18. I want you to rock me

Bobby King – vocals, guitar
Rosemary King – vocals (15, 16)
Sonny Thompson – piano
+ band
Cincinnati, 21 November 1961

19. Two telephones

Bobby King – vocals, guitar
+ band
Cincinnati, 16 August 1962

20. What a day what a night
21. Wasted

Bobby King – vocals, guitar
Sonny Thompson – piano
+ band
Cincinnati, 12 June 1964

22. Froggy Bottom I

Bobby King – vocals, guitar
+ band
Chicago, 1966

Here is the 7th opus of this popular "Chicago/The Blues Yesterday" series.
Guitarist and singer Freddie (or Freddy) Robinson (1939-2009) is well known among blues fans for his tasty and jazzy solos behind Howlin' Wolf, Little Walter, Shakey Jake, Louis Myers or John Mayall. But, particularly after he left Chicago to the West Coast, Freddie has recorded as a leader several albums in a Soul Jazz genre a la George Benson. Each one features anyway a couple of excellent blues tunes, particularly those Freddie made for the Enterprise label. Here are gathered the handful of singles he made in Chicago under his name in which we can appreciate his already touchy style of guitar playing.
Singer and harp player George "Mojo" Buford (1929-2011) is mostly known for having been one of the main stalwart of the Twin City blues scene. But he has been tied up with Muddy Waters for years (as the leader of the Muddy Waters Junior Blues Band and as the harmonica player of the Muddy Blues Band) so his music can surely been qualified as "Chicago blues". The eight tracks we have gathered here have been recorded for tiny local labels (Vernon, Adell) and are much sought-after numbers by many blues buffs. Mojo has also recorded several excellent albums in Minneapolis, Memphis and the United Kingdom.
At last - but not the least - Bobby King would deserve better fame. Born in Little Rock on January, 29th 1941, Bobby has learned the blues under the influence of Fenton Robinson and Larry Davis before moving to Chicago via a stopover in Saint Louis in 1959. Bobby became very quickly a favorite of the Chicago clubs and his adventurous and jazzy guitar style brought him very often in the studios, recording behind a vast array of blues stars (Lee Shot Williams, Jesse Anderson, Eddy Clearwater, Freddy King and many more) and also touring with Bobby Bland and Hank Ballard. He also waxed some 45s that we have gathered here for the first time (one track is still missing... help, anyone?). After an excellent "live" album for Marcelle Morgantini in 1975 and another session with Jimmy Tillman in 1977 (only issued as a cassette and sold briefly during Tillman's gigs), Bobby King ought to make tour of Europe and Japan. But a violent quarrel at Louise's, a Chicago club, left him severely wounded, unable to play the guitar anymore. He subsequently died from those wounds on July, 22nd 1983, at only 42! ---Gérard Herzhaft, jukegh.blogspot.com
download (mp3 @320 kbs):
uploaded yandex 4shared mega mediafire solidfiles zalivalka cloudmailru oboom