Chicago - The Blues Yesterday Vol.17
Chicago - The Blues Yesterday Vol.17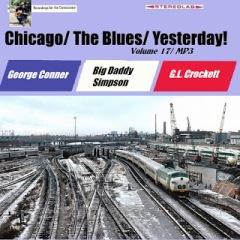 01. Morning love blues
02. You know you don't love me
03. Too hot to hold

George Conner (as George Corner) -  vocals, guitar
+ band
Chicago, Ill. 1962

04. Poor boy
05. Back in town

George Conner (as Birmingham George) -  vocals, guitar
Billy Emerson – organ
Otis Rush – guitar
Lonnie Brooks – guitar, bass, drums
Chicago, Ill. 1965

06. I love my baby
07. Try and understand

Big Daddy Simpson (Marcellus Simpson) -  vocals, guitar
+ band
Chicago, Ill. 1960

08. What can I do
09. You don't believe a word I say

Big Daddy Simpson -  vocals, guitar
Middle Walter (James Jones) – harmonica
+ band
Chicago, Ill. 14 january 1963

10. Give me back my ring
11. Let your hair down baby
12. Lonely man

Big Daddy Simpson -  vocals, guitar
+ band
Chicago, Ill. october 1963

13. Someday baby
14. So hard I & II
15. Don't leave me
16. I'm in love with you

Melvin Simpson  -  vocals, guitar
Middle Walter – harmonica
+ band
Chicago, Ill. 1964

17. Look out Mabel I & II
18. Did you ever love somebody I & II

G.L. Crockett – vocals
Louis Myers – guitar
Henry Gray – piano, bass, drums
Chicago, Ill. june 1958

19. It's a man down there
20. Every hour every day
21. Every goodbye ain't gone
22. Watch my 32

G.L. Crockett – vocals
Louis Myers – guitar
Henry Gray – piano
Lorenzo Smith – tenor saxophone
Reggie Boyd – bass, drums
Chicago, Ill. 17 june 1965

23. Think twice before I go
24. Gonna make you mine

G.L. Crockett – vocals
Louis Myers – guitar
Henry Gray – piano
Lorenzo Smith – tenor saxophone
Reggie Boyd – bass, drums
Chicago, Ill. january 1966

With this 17th (!!!) volume of our "Chicago/ The blues Yesterday" series, let's bring the spotlight once again upon three very lesser known Chicago bluesmen who, anyway, also making their own contribution to this great style.
Singer and guitarist "Birmingham" George Conner (born 25 May 1934 at Reform, Alabama) is still performing on festivals! Before being rediscovered in the 2000's and recording again thanks to the Music Maker Relief Foundation (and with his friend Willie King), Conner lived in Chicago for three decades, holding a blues club "The Place" and recording two much sought after singles under the names George Corner (sic) and Birmingham George, this last one backed by Otis Rush and Lonnie Brooks! George has gone back to Alabama during the 1980's, opening again a club.
Although he has substantially recorded, singer and guitarist Big Daddy Simpson (probably Marcellus Simpson and not Melvin as it is generally told) is still shrouded in some mystery. Simpson has lived and played in Gary, Indiana with John and Grace Brim (who might be on some of his recordings), coming to Chicago for some gigs and recording sessions. It seems that for at least the last session inhere it is his son Melvin Simpson who replaces his father who went ill just before the studio. The harmonica on many of those recordings is blown by another mysterious name, Middle Walter (sic), in fact James Jones. Melvin will also play and record behind Big Daddy Kinsey.
G. L. Crockett (George Crockett) is better known for his two "hits". Born in Carrollton, Ms on 18th September 1928, Crockett came to Chicago at the end of Second World War and began to sing with several West Side blues bands for whom he also composed songs. This is his friend Louis Myers (who also plays the guitar) who brought him in the studios in 1958 for the recording of the fabulous Rockabilly blues tune, Look out Mabel. In 1965, G.L. Crockett would again hit the Chicago charts with It's a man down there, a great blues that will also be recorded by Jimmy Reed and Sonny Boy (Rice Miller). Unfortunately, George Crockett died shortly afterwards in Chicago on 15th February 1967. --- Gérard Herzhaft, jukegh.blogspot.com
download (mp3 @320 kbs):
yandex 4shared mega mediafire zalivalka cloudmailru uplea
Zmieniony (Środa, 30 Marzec 2016 18:54)