The Piano Blues Vol. 12 – Big Four 1933 – 1941 (1979)
The Piano Blues Vol. 12 – Big Four 1933 – 1941 (1979)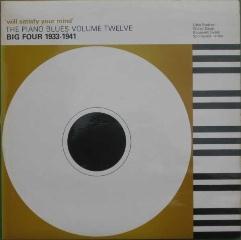 1 	–Little Brother 	Farish Street Jive
2 	–Walter Davis 	Big Jack Engine Blues
3 	–Roosevelt Sykes 	Big Legs Ida Blues
4 	–Springback James 	Will My Bad Luck Ever Change?
5 	–Little Brother 	Vicksburg Blues - Part 3
6 	–Roosevelt Sykes 	Low As A Toad
7 	–Springback James 	New Red Cross Blues
8 	–Walter Davis 	I Can Tell By The Way You Smell
9 	–Little Brother 	Shreveport Farewell
10 	–Springback James 	Snake Hip Blues
11 	–Walter Davis 	Sweet Sixteen
12 	–Roosevelt Sykes 	Let Me Hang My Stocking In Your Christmas Tree
13 	–Springback James 	Poor Coal Loader
14 	–Little Brother 	Louisiana Blues - Part 2
15 	–Springback James 	See For Yourself
16 	–Walter Davis 	Frisco Blues

Eurreal "Little Brother" Montgomery – piano (1,5,9,14), vocals (5,14)
Walter Davis – vocals, piano (2,8,11,16)
Roosevelt Sykes - vocals, piano (3,6,12)
Springback James - vocals, piano (4,7,10,13,15)
Henry Townsend – guitar (2,8,11)
Willie B. James – guitar (4,7,11,13,15)

Little Brother Montgomery is often associated with his native Kentwood, Louisiana, or with Chicago, where he spent the majority of his long career, but he was also once the most prominent blues pianist in Mississippi. He inspired a young Willie Dixon in Vicksburg, mentored Otis Spann and Little Johnnie Jones in Jackson, and influenced Skip James, Arthur "Big Boy" Crudup, Sunnyland Slim, and many others.
Walter Davis was initially primarily a blues singer, with a fairly primitive piano technique, and he played gigs around the southern and mid-western states with guitarist Henry Townsend and pianist Peetie Wheatstraw. When he started recording in the early '30s, he was often accompanied by the great pianist Roosevelt Sykes, but as time went on his confidence and skill grew and he recorded solo, using a distinctive single finger chord hammering style with his left hand, while his right hand played intricate and unpredictable phrases. His voice was one of the best of the Delta blues vocalists, with a rich timbre that gave a warmth and soulful feel, and he wrote some important songs, most notably "M&O Blues".
Chicago blues pianist Frank "Springback" James made records with four different companies during the 1930s, playing and singing in a style that revealed a strong Leroy Carr influence and placed him in league with bluesmen Jimmie Gordon, Walter Davis, Jesse Coleman, Curtis Jones, Walter Roland, Ollie Shepard, Little Brother Montgomery, and Bumble Bee Slim. Blues historian Chris Smith has advanced conjectural theories that Frank's musical roots were in St. Louis, that he may have been born in Alabama, and that his given name was James Hairston. "Springback" was a sexualized nickname similar to Jelly Roll Morton's "Winin' Boy" ("Winding Boy"). Both handles implied that the bearer of the name was a tireless stud. The hottest of James' 18 known recordings, "Springback Papa" is a boogie-woogie charged with stamina that fits well with the copulative connotation. Aside from a handful of unissued sides cut for the Gennett label in 1932, James' complete works (1934-1938) were rescued from oblivion and reissued by Document in 1994. On that collection, James is heard with guitarists Willie B. James and Hobson "Hop" Johnson, drummer Fred Williams, and vocalist George Curry.
download (mp3 @128 kbs):
uploaded yandex 4shared mega mediafire zalivalka cloudmailru oboom uplea