Piano Blues Vol. 14 - The Accompanist 1933-1941 (1980)
Piano Blues Vol. 14 - The Accompanist 1933-1941 (1980)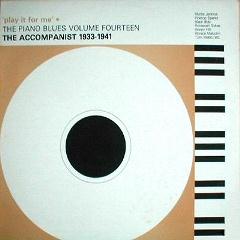 1. Bumblebee Slim - New Bricks In My Pillow
2. Stump Johnson & Doreatha Trowbridge - Steady Grindin'
3. Lil Johnson - I Lost My Baby
4. Carl Rafferty - Dresser With The Drawers
5. Bill Gaither - Georgia Woman Stomp
6. Charlie McFadden - Times Are So Tight
7. Johnny Temple - What Is That She Got
8. Bumblebee Slim & Memphis Minnie - New Orleans Stop Time
9. Bumblebee Slim - Any Time A Night
10. Mary Johnson - Deceitful Woman
11. Blind Squire Turner - Pitty Pat
12. Doreatha Trowbridge - Bad Luck Blues
13. Lil Johnson - Keep On Knocking
14. Bumblebee Slim - Rough Treatment
15. Kansas City Kitty - Christmas Mornin'
16. Bumblebee Slim - When Somebody Loses

Myrtle Jenkins – piano (1,8,9,14,16)
Pinetop Sparks – piano (2,6,12)
Black Bob – piano (3,13)
Roosevelt Sykes – piano (4)
Honey Hill – piano (5)
Horace Malcolm – piano (7)
Henry Brown – piano (10)
Tom Webb – piano (11)
Unknown piano (15)
Bumble Bee Slim – vocals (1,8,9,14,16)
Unknown guitar (3,9)
James 'Stump' Johnson – vocals (2)
Doreatha Trowbridge – vocals (2,12)
Lil Johnson – vocals (3,13)
Unknown guitar, bass (13)
Carl Rafferty – vocals (4)
Bill Gaither – vocals, guitar (5)
Charlie McFadden – vocals (6)
Johnny Temple – vocals, guitar (7)
Mary Johnson – vocals (10)
Teddy Darby – vocals, guitar (11)
Kansas City Kitty – vocals (15)

Lil Johnson (dates and places of birth and death unknown) was an African American singer, who recorded bawdy blues and hokum songs in the 1920s and 1930s. Her origins and early life are not known. She first recorded in Chicago in 1929, accompanied by pianists Montana Taylor and Charles Avery on five songs including "Rock That Thing". She did not return to the recording studio until 1935, when her more risqué songs included "Get 'Em From The Peanut Man (Hot Nuts)", "Anybody Want To Buy My Cabbage?", and "Press My Button (Ring My Bell)" ("Come on baby, let's have some fun / Just put your hot dog in my bun"). She also recorded a version of "Keep A-Knockin'", a song that later became a hit for Little Richard.
From her second session onwards, she hit up a striking partnership with the ragtime influenced pianist "Black Bob" Hudson, who provided ebullient support to Johnson's increasingly suggestive lyrics. In 1936 and 1937, she recorded over 40 songs, mostly on the Vocalion label, some featuring Big Bill Broonzy on guitar and Lee Collins on trumpet. Her other songs included "Was I Drunk", "My Stove's in Good Condition", "Take Your Hand Off It" and "Buck Naked Blues".
All her songs were sung in a vigorous and sometimes abrasive way, and have been anthologised on many later blues collections. There is no record of what became of Johnson after her recording career ended in 1937. --- liljohnson.com
Doretha Trowbridge was a blues vocalist based out of St. Louis in the 1930s. In 1933, she was taken to Chicago to record. At times, Trowbridge's voice was accompanied by other St. Louis musicians including James "Stump" Johnson, and pianist Aaron "Pinetop" Sparks. ---Joslyn Layne, Rovi
In early December 1933 Roosevelt Sykes accompanied Carl Rafferty, a man about who we know absolutely nothing, on Mr Carl's Blues. What we do know is this session was significant in the history of the Blues. Mr Carl's Blues contains the immortal lines, I do believe, I do believe I'll dust my broom. And after I dust my broom, anyone may have my room. Many years later, as historian's dissected Robert Johnson's songs to understand his influences, it was generally assumed that he based I Believe I'll Dust My Broom on Kokomo Arnold's Sagefield Woman Blues. Although the latter has words similar to Mr. Carl's Blues but was recorded some ten months after Rafferty's effort. In truth we may never know who 'did it first', but recorded evidence points to Mr Carl Rafferty accompanied by Mr. Roosevelt Sykes. --- haveringhavers.blogspot.com
Amos Easton (May 7, 1905[1] – June 8, 1968 ), better known by the stage name Bumble Bee Slim, was an American Piedmont blues musician. Easton was born in Brunswick, Georgia, United States. Around 1920 he left home to join the Ringling Brothers' circus before returning to Georgia, marrying briefly, and then heading north on a freight train to Indianapolis where he settled in 1928. There, he met and was influenced by pianist Leroy Carr and guitarist Scrapper Blackwell. By 1931 he had moved to Chicago, where he first recorded as Bumble Bee Slim for Paramount Records. The following year his song, "B&O Blues", was a hit for Vocalion Records, inspiring a number of other railroad blues and eventually becoming a popular folk song. Over the next five years he recorded over 150 songs for the Decca, Bluebird and Vocalion labels, often accompanied by other musicians such as Big Bill Broonzy, Peetie Wheatstraw, Tampa Red, Memphis Minnie, and Washboard Sam.
In 1937, he returned to Georgia, then relocated to Los Angeles, California, in the early 1940s; he apparently hoped to break into motion pictures as a songwriter and comedian. During the 1950s he recorded several albums, but these had little impact. He recorded his last album in 1962 for the Pacific Jazz label. He continued to perform in clubs around Los Angeles until his death in 1968.
download (mp3 @320 kbs):
uploaded yandex 4shared mega mediafire zalivalka cloudmailru oboom uplea