Micky Moody ‎– I Eat Them For Breakfast (2001)
Micky Moody ‎– I Eat Them For Breakfast (2001)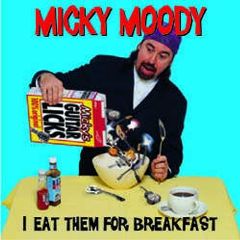 1 	On Common Ground 	4:46
2 	Alimony 	4:47
3 	Delta Bluesman 	4:04
4 	Mixed-Up Blues 	2:27
5 	My Lady Friend 	3:25
6 	14-String Rag 	2:17
7 	Me And My Guitar 	3:36
8 	Just Leave Me Alone 	3:47
9 	Turning Point (Parts 1-5) 	10:07
10 	Obsession 	3:14
11 	Let This Boy Boogie 	3:39
12 	My Word For Trouble (W.O.M.A.N.) 	4:21
13 	Journey Home 	2:23

Don Airey 	Keyboards, Organ, Piano, Wurlitzer
Robert Hart 	Vocals
John Lingwood 	Drums
Bernie Marsden 		Fender Rhodes, Guitar, Producer, Slide Guitar, Vocals (Background)
Micky Moody 	Dobro, Guitars, Mandolin, Slide Guitar, Vocals, Vocals (Background)
Neil Murray 	Bass
Andy Pyle 	Bass
Henry Spinetti 		Bass, Drums
Paul Williams 	Vocals 

If you like vintage blues this is one for your collection. -- Steve Lally Blues Matters
Micky Moody is best known for his role in the definitive Whitesnake line-up, though his vast and varied career was spawned out of a sixties school band which also included another future star, Free and Bad Company singer Paul Rodgers. Micky quickly graduated to the recording studios via the R&B combo Tramline before touring Britain and Europe with some of the country's top soul musicians.
Joining the highly acclaimed Juicy Lucy was a large step towards rock stardom, and major tours of Britain, Europe and the USA accompanied a regular output of recorded works. After Juicy Lucy split, Micky co-founded Snafu, combining his rock-style guitar with down-home stateside grooves, and became a major contributer on the songwriting front. Snafu recorded three albums and toured extensively before the individual members headed off to pursue their different ventures. Micky then became engrossed in session work as his reputation as a versitile performer spread. Soon a phone call from David Coverdale assured Micky of a vital place in his future plans, starting with the guitar slot and co-writing position on his forthcoming solo albums, 'Whitesnake' and 'Northwinds'. This led to the formation of the classic Whitesnake line-up during which time Micky toured worldwide, aquiring many gold discs and much wider recognition. He even found time to record an album and a Levi jeans commercial with Status Quo lyricist Bob Young. The pair also put together a band featuring Lemmie, Cozy Powell and the Nolan Sisters to record a top sixty single!
As a sideman, Micky has featured alongside such classic British singers as Graham Bonnet, Frankie Miller, Chris Farlowe, Sheena Easton, Roger Chapman, Elkie Brookes and Eric Burdon. Visitors from the states such as Meat Loaf, Matt 'guitar' Murphy, Ben E. King and Walter Trout have all employed his talents to enhance their performances.
Micky's session work has included many T.V. commercials and some film scores. As a writer or co-writer his credits are numerous and include many of the classic Whitesnake favourites. With the Moody Marsden band, he and his guitar sparring partner Bernie Marsden toured extensively and released four albums before continuing their Whitesnake legacy with the Snakes and the Company of Snakes. The line-up also featured former Whitesnake bass player Neil Murray. This ultimately led to the current line-up of M3-Classic Whitesnake featuring ex-Black Sabbath singer tony martin, Magnum keyboard player Mark Stanway, and ace sessioneer and former Paul Rodgers band, Tears for Fears and Go West drummer, Jimmy Copley.
In 2000 Micky finally released his first solo album 'I Eat Them For Breakfast' on Armadillo records. Soon after, he teamed up with former Juicy Lucy singer Paul Williams to celebrate the music of Howlin' Wolf, Elmore James and Muddy Waters with 'Smokestacks, Broomdusters and Hoochie Coochie Men', also on Armadillo. He is currently recording a selection of original acoustic instrumentals and plans to record a new solo album in the new year. ---amazon.com
download (mp3 @320 kbs):