Reverend Raven - Big Bee (2006)
Reverend Raven - Big Bee (2006)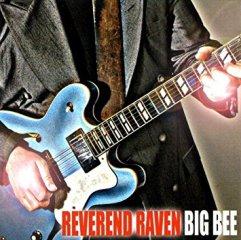 1. My Life		3:45 	
2. Big Bee		6:49 	
3. Once The Women Start Talkin'		3:41 	
4. Someday When I'm Dead and Gone		5:01 	
5. You Ain't No Friend of Mine		5:27 	
6. Two Times Fine		4:13 	
7. I Don't Want To Know		4:54 	
8. Here Comes My Baby	6:16 	
9. Benny's Bounce		2:51 	
10. Don't Get On The Wrong Side of My Baby	4:09 	
11. Bad Little Girls		4:29 	
12. I Wanna Love You		4:04 	
13. She's Movin' On		4:49

Reverend Raven - guitar, vocals
Benny Rickun - harmonica 
Peetie Pedersen - bass 
Spencer Panosh - drums 

This band from Chicago/Milwaukee has been slugging it out on the road, playing their brand of blues for appreciative fans around the Midwest for years. They have to be to earn the 'very, very good' praise of Buddy Guy. Combine Raven's West Side Chicago-style guitar with the South Side Blues harp of Benny Rickun and you have a double threat that is tough to beat. - T-Bone Erikson, Blues Wax E-Zine
Born and raised on the south side of Chicago Richard Raven first heard the blues of Louis Jordan, T-Bone Walker and Pee Wee Crayton coming from his mother's stereo. His older cousin later brought home the records of Muddy Waters, Howling Wolf, Magic Sam, Slim Harpo, Buddy Guy and Otis Rush.
After seeing Freddy King at the Kinetic Playground, he started going to Maxwell Street on Sunday afternoons to see Johnny Dollar, Lefty Dizz and Jimmie Lee Robinson play in the alleys and on the street corners.
The 1970s were spent going to the clubs and taverns on the south side of Chicago and Chicago Heights to see and hear raw urban blues.
After playing in bands for 5 years and doing a 15 year stint in U.S. Navy, where he acquired the Reverend tag, Chief Raven hung up his anchors to give music another go.
That was 12 years ago and he hasn't looked back. Since then he has become a regular on the Midwest blues circuit, playing Buddy Guy's Legends, The Slippery Noodle, Memphis Smoke, Fat Fish Blue, Blues on Grand, The Zoo Bar, Whiskey Junction and most of the Midwest blues festivals. Rev has won the Wisconsin Area Music Industry Award (WAMI) for best blues artist in 1999,2000, 2004. ---cdbaby.com
download (mp3 @320 kbs):