Blues Karloff - Ready For Judgement Day (2014)
Blues Karloff - Ready For Judgement Day (2014)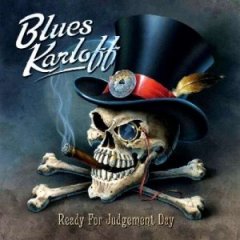 01. Who's Been Talking (3:11)
02. Train Kept-A-Rollin' (3:41)
03. Boom Boom (3:38)
04. The Hunter (3:47)
05. Inside Out (2:53)
06. Better By You, Better By Me (4:01)
07. Oh Pretty Woman (4:14)
08. Rock Me Baby (4:20)
09. Shame, Shame, Shame (3:32)
10. Got Love If You Want It (3:13)
11. Mean Ol' Woman Blues (6:17)
12. Neighbor, Neighbor (2:52)
13. I'M Ready (3:18)
14. If I Had Possession Over Judgment Day (5:01)
15. Big Boss Man (3:31)
16. Cross Road Blues (3:39)

Alfie Falckenbach – Vocals
Georges Milikan - Drums, Percussion
Rudy Pieters - Organ, Piano
Frans Ruzicka - Bass, Guitar (Acoustic), Guitar (Rhythm), Harmonica
Paul "Shorty" Van Camp - Guitar, Vocals (Background)
Fonzie Verdickt – Guitar
Véronique Barrez - Vocals (Background)

This is the debut album from this five-piece Belgian band and they nail their colours firmly to the mast. Right from the opening heavy, dirty riff, it is obvious that these guys have been listening to the 60s UK blues boomers for a long time, and the repertoire serves to underline this.
One time UK staples such as 'Train Kept A-Rollin'' (most likely from The Yardbirds), 'Boom Boom', (The Animals, if not John Lee Hooker's own version), 'The Hunter' (Free), 'Oh Pretty Woman' (John Mayall – and yes, these last two titles were initially Albert King recordings), early soul singer Jimmy Hughes' 'Neighbor Neighbor' (probably via Spencer Davis) and others are performed in a tough blues-rock style, with echoes of those 60s bands – and Jimi Hendrix in places, whilst the band's sole original composition, 'Mean Ol' Woman Blues' sounds like it should have been issued around late 1970.
Initially Alfie Falckenbach's singing sounds rather laboured, but the ear quickly adjusts and within a few tracks, it fits perfectly, as he seems to be trying for a vintage Robert Plant approach. Nice to note too the inclusion of Spooky Tooth's 'Better By You, Better By Me' – it cost 12/6d on the sampler "Nice Enough To Eat" (and that is definitely showing my age!).
Guitarists Paul "Shorty" Van Camp and Fonzie Verdickt have the chops to match, and the rhythm section of bassist, harpman and acoustic guitarist Frans Ruzicka and founder member/ drummer Georges Milikan knows just what is required. If these songs were the soundtrack to your youth, you'll definitely enjoy this; if not, and you enjoy the classic UK blues-rock sound, buy it anyway! ---Norman Darwen, bluesinthenorthwest.com
download (mp3 @320 kbs):
yandex 4shared mega mediafire zalivalka cloudmailru oboom uplea