Johnnie Mae Dunson - Big Boss Lady (2003)
Johnnie Mae Dunson - Big Boss Lady (2003)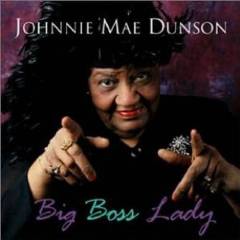 01 - I'm Going Upside Your Head	 [00:04:47]
02 - So, Cold (Part 1) 	[00:05:10]
03 - I'm A She Wolf 	[00:04:55]
04 - Gamblin' Woman	 [00:06:26]
05 - My Baby's Gone	 [00:05:51]
06 - Big Boss Lady 	[00:05:04]
07 - I'm A Whole Lotta Woman 	[00:04:35]
08 - Trouble Just Won't Let Me Be 	[00:05:39]
09 - Evil 	[00:06:09]
10 - Blue Sky Is My Blanket 	[00:06:02]
11 - Blues Talking 	[00:05:29]
12 - I'm Sad And Lonesome	 [00:05:19]
13 - I Won	 [00:03:04]

Johnnie Mae Dunson-Smith - vocals 
Jimmie Lee Robinson- acoustic guitar
Frank 'Little Sonny' Scott Jr - acoustic guitar
John Jochem- harmonica

Contains 13 tracks from famous blueswoman songwriter and singer, Johnnie Mae Dunson. Known best for her songs recorded by Jimmy Reed and Koko Taylor, Johnnie Mae Dunson delivers the original goods on this historic cd recording.
Featured here are her time-honored originals Evil, I'm a Whole Lotta Woman (her answer to Bo Diddley's I'm a Man), I'm Going Upside Your Head, I'm a She Wolf, Big Boss Lady and recent songs, Blue Sky is My Blanket, My Baby's Gone and Trouble Just Won't Let Me Be.
Released by Lakada Music Co., featured musicians on this recording are Jimi "Prime Time" Smith and two of the famous Lost American Bluesmen, Frank "Little Sonny" Scott Jr. and Jimmie Lee Robinson. Johnnie Mae Dunson makes regular appearances at the Chicago Blues Festival and has appeared on the Chicago Cable TV program "Speaking of the Blues" and on WTTW's Image Union. She has been the subject of feature story/interviews in The Reader, The Daily Herald, The Sun Times, Blues Access and Blues Review magazines and on radio on WBEZ's 848 and Comin' Home programs. --- bogfire.com
Johnnie Mae Dunson Smith left Alabama in 1943 and came to Chicago where she learned drums from former medicine show dancer Eddie "Porkchop" Hines on Maxwell Street. She became an accompanist and songwriter for Jimmy Reed and recorded a few sides in the 1960's.
Lately the 79-year-old Dunson has emerged from obscurity and ill health to become a symbol of the grit and tenacity of Maxwell Street and she has played a prominent role in the many demonstrations for the preservation of what remains of the old market area. Bogfire's Jim Fraher persuaded her to cut this album together with her son, Jimi "Prime Time" Smith, and old Maxwell Street friends including Jimmie Lee Robinson and Frank Scott. The result is a sometimes quirky set of originals that evoke mysterious backwoods as vividly as Maxwell Street.
Dunson's talents as a lyricist are highlighted on the feisty Big Boss Lady, her answer to Reed's Big Boss Man, the hauntingly poetic Blue Sky Is My Blanket, the astonishing a capella I Won, the hypnotic So Cold, and the steamy Blues Talking, a vocal duet with Jimmie Lee Robinson that demonstrates her amazing ability to adlib and create lyrics on the fly. Dunson is equal parts crusader, shaman, and liberated woman-without a doubt the elder stateswoman of Maxwell Street and of changing culture.
As dazzling as one of her-decorated canes, this CD should put Dunson in the running for "Comeback Artist of the Year" and other honors. --- Justin O'Brien, cdbaby.com
download (mp3 @320 kbs):
yandex mediafire ulozto global-files
Zmieniony (Niedziela, 14 Marzec 2021 17:13)