Liz Mandeville - The Stars Motel (2016)
Liz Mandeville - The Stars Motel (2016)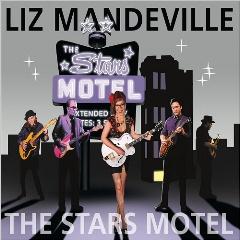 01. Too Hot For Love 3:00
02. Blues Is My Boss 4:03
03. Everybody Knew But Me 3:25
04. One Dance 4:54
05. Try Me 4:26
06. What Is Truth 3:25
07. Reefer And A Glass Of Wine 3:03
08. What Could Have Been 3:49
09. Bad Blues Habit 4:04
10. River Of Blood 4:11
11. What Do Blues Men Like 2:28

Liz Mandeville – vocals, tambourine
Scott Ellison, Minoru Maruyama, Rachelle Coba, Dario Lombardo - guitars

It started in 2013 when Scott Ellison called Liz. The two artists had met when each released an album on the Earwig Label in 2008. Scott said he and his band were coming to play in Chicago and had no hotel rooms. Liz said "You can stay in my studio, but the price of admission is we write and record 3 tunes while you're here." Scott agreed and the first three tunes were made. Scott's Clapton-esque rock influenced blues married nicely with Liz's witty lyrics for a trio of edgy swinging tunes.
The following year, Dario Lombardo was booked to play the Chicago Blues Fest. His accommodations fell through at the last minute and Liz stepped up and offered Dario the same deal. "You can stay but we have to write and record 3 tunes." Liz and Dario did three weeks of gigs, drank a lot of red wine and wrote three great tunes including Reefer and a Glass of Wine that features a solo from Tampa's master of Swing, Doug Deming.
Later that year Rachelle Coba, who Liz had met when both women were in Clarksdale playing the Juke Joint Festival, called to say her debut CD had been nominated for a Blues Blast Award. She said she could get from Miami to Chicago, but where the heck was Carbondale? Liz told her "Come to Chicago a few days early, lets write 3 tunes and then I'll drive you to Carbondale!" So it was on! Rachelle's collaboration yielded a trio that rings with Delta influence, from the New Orleans 2nd Line flavor of Everybody Knew But Me to the hauntingly hypnotic Hill Country Groove of River of Blood.
Nine tunes was just a bit short for a CD, so Liz approached Japanese born Minoru Maruyama, who had played on her 2014 Heart 'O' Chicago release. Minoru gave Liz the beautiful ballad that became One Dance, complete with a Memphis Horn treatment, as well as the West side blues firecracker, What Is Truth.
Liz spent the last 6 months in the studio with engineer Jim Godsey who has worked on all Liz's projects since the '90's. Adding Horns, keys, blues harp, even tuba and washboard! The result is a party on a platter! Check in to the Stars Motel and see for yourself!! ---cdbaby.com
download (mp3 @320 kbs):
yandex mediafire ulozto solidfiles global.files
Zmieniony (Czwartek, 08 Kwiecień 2021 14:51)