Meena Cryle & The Chris Fillmore Band - In Concert (2017)
Meena Cryle & The Chris Fillmore Band - In Concert (2017)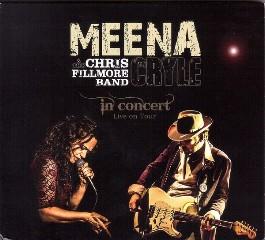 1 	Bright Lights 	
2 	Since I Met You Baby 	
3 	Rather Go Blind 	
4 	Enough Is Enough 	
5 	It Makes Me Scream 	
6 	Take This Pressure Off Me 	
7 	Lord Have Mercy 	
8 	Tell Me 	
9 	You Don't Know 	
10 	This Is My Will 	
11 	You Can Have My Husband 	
12 	Ti Na Nee Na Nu

Meena Cryle - vocals, guitar
Chris Fillmore - electric and acoustic guitars, slide-guitar, pedal- steel
+
Roland Guggenbichler - hammond organ, rhodes, piano, accordeon, pump organ
Joris Hendrik - guitar
Jojo Lackner - bass
Frank Cortez - drums, percussion
Brigitte Guggenbichler - backing vocals

Continental Blue Heaven (CRS' blues label) is happy to announce the first release in what the label expects to be a long-term collaboration with Meena Cryle & the Chris Fillmore Band. Being named one of the most exciting and entertaining acts on many festivals, Meena and her men have developed a huge following across Europe. Following up on 2 self released albums and 3 highly successful releases on top German blues label Ruf Records, In Concert is a vibrant live album made up from the best takes from various shows the band played and recorded in the course of 2015.
MEENA CRYLE & The Chris Fillmore Band, led by singer Meena Cryle and guitar virtuoso Chris Fillmore, are proud to announce their January 2017 release of "In Concert", their debut album for "Continental Blue Heaven/CRS".
The blistering performances collected on Meena Cryle & The Chris Fillmore Band – In Concert span their gigs at clubs, theatres and festivals from the past 18 months of non-stop touring.
Early listeners have called this the band's best work yet.
Their three highly successful releases on german top Blues label "Ruf Records", extensive tours in Europe and USA, as well as recent highlights like a sold-out show at the Vienna Opera House or their performance at the "Peer Blues Festival" (together with acts like Buddy Guy, Walter Trout, …) prove their stand in today`s roots music scene.
Producer legend Jim Gaines (Stevie Ray Vaughan, John Lee Hooker, Santana,…) once praised Cryle as "one of the best singers I`ve worked with in 20 years. She is what we call in the business an `old soul`. She`s got the voice and she`s got the passion…"
There is an inherent magic that occurs when Meena Cryle & Chris Fillmore take the stage each night. It is an organic, spontaneous, and almost mystical experience to witness. That magic is now available on In Concert. ---bluesmagazine.nl
download (mp3 @320 kbs):