Son House - Death Letter (1965)
Son House - Death Letter (1965)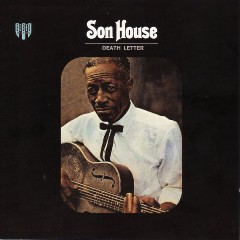 A1 	Death Letter 	4:28
A2 	Pearline 	4:38
A3 	Louise McGhee 	6:18
A4 	John The Revelator	2:37
A5 	Empire State Express 	3:43
B1 	Preachin' Blues 	5:51
B2 	Grinning In Your Face 	2:13
B3 	Sundown 	6:20
B4 	Levee Camp Moan 	9:30

Son House - guitar, vocals

His life reads like a blues song … 1920's, a young preacher playing the blues, despite his church's opposition. Kills a man in self-defense, 2 years in prison, and comes out to team up with the best-known blues man of the day, Charley Patton.
After limited commercial success of his own, he fades from view, working on farms and railroads. Thirtyfive years later, some dedicated blues fans track him down and he begins performing around the world, finally getting recognition as a blues master.
He played blues with the fire of a preacher.
Son House was more than an influence; he was an inspiration for early bluesmen Robert Johnson and Muddy Waters, as well as those who heard him during his later incarnation. Unlike his partner Charley Patton, who was a flamboyant crowd-pleaser, House's music was more brooding, dark and personal. Saying that it's passionate and gut wrenching does not come close to the conveying the power Son House could summon with just his voice and guitar. ---jazz24.org
download (mp3 @VBR kbs):
yandex mediafire ulozto gett bayfiles