Cookie McGee - One Way Ticket (2010)
Cookie McGee - One Way Ticket (2010)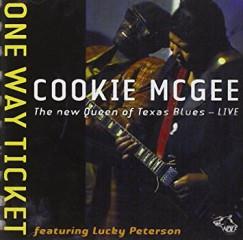 1 	Cookin' With Cokie 	4:29
2 	Back Playing The Blues 	6:30
3 	I Can't Take It 	6:29
4 	The Right Place 	2:51
5 	One Way Ticket 	2:34
6 	I'm Tore Down - Take 1 	5:22
7 	Woke Up This Morning 	6:55
8 	One Thing Or Another 	8:02
9 	Palace Of The King 	4:27
10 	I'm Tore Down - Take 2 	3:59

Bass – Jay Dronge (tracks: 4, 5), William Harris (13) (tracks: 1 to 3, 6 to 10)
Congas – Kenny King (10) (tracks: 1 to 3, 6 to 10)
Drums – Chuck "Popcorn" Louden
Guitar – Lucky Peterson (tracks: 9)
Guitar, Vocals – Cookie McGee
Keyboards – Elbert Taylor (tracks: 1 to 3, 6 to 10)
Organ – Lucky Peterson (tracks: 6 to 8, 10)
Rhythm Guitar – James Butler (14) (tracks: 1 to 3, 6 to 10), Richard Chalk (tracks: 4, 5)
Saxophone – Stuart Melis (tracks: 1 to 3, 6 to 10)
Trombone – Gaika James (tracks: 1 to 3, 6 to 10)
Trumpet – Sheldon Wright (tracks: 1 to 3, 6 to 10) 

Recorded February 28, 2009 at The Pearl, Dallas, TX.

There are also Blues ladies in Texas, who can write their own songs! On this live recording the great Lucky Peterson does the introduction, then Cookie does her great singing and guitar licks! If you like Texas Blues, original & rough by Texas` best Blues lady, you need this CD! ---wolfrec.com
Cookie McGee was born and raised in Dallas in the North Park neighborhood and started playing the guitar at the age of five years old. As a young girl she would visit her neighbor, blues legend and Rock and Roll Hall of Famer — Freddie King to listen and learn from him. Cookie quickly developed a career as and backup musician and band leader but found it tough to keep it going and provide herself with a stable income through her music. Throughout the years Cookie would go in and out of the music industry, taking regularly breaks due to her role as primary care provider to her elderly parents, the deaths of close friends and frustration with the business side of things. Recently she has experienced a resurgence and has started playing festivals again which lead to a recent feature in Living Blues magazine.
So when MMRF Programs Manager Aaron Greenhood picked up his copy of Living Blues and saw that feature on Cookie McGee he gave her a call to explain what Music Maker does and see if she would be interested in partnering. Cookie was thrilled to get the call and explained that she needed help with her HVAC unit that had recently broken. With winter on its way Cookie felt as though the call couldn't have come at a better time. Music Maker immediately sent and emergency grant to her so that her heat could get fixed before the cold weather sets in.
"To be without heat is not something you want to be without in the winter time. Even my dog looks at me like "what's going on here?" Thank you so much, you don't even know how much this means to me." – Cookie McGee
"When I first watched that video of Cookie McGee – I was floored. That's raw blues straight out of the heart of Texas and when we learned she needed help there was no hesitation to assist her. Cookie is one of the most important living blues women." – Timothy Duffy (Music Maker Relief Foundation, Founder) ---musicmaker.org
download (mp3 @320 kbs):
yandex mediafire ulozto gett bay files