Bessie Smith – The Complete Recordings Vol.4 (1928-1930) 2003
Bessie Smith – The Complete Recordings Vol.4 (1928-1930) 2003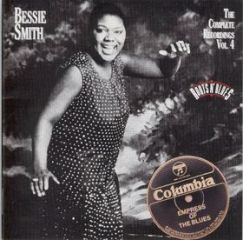 CD I: 
1) He's Got Me Goin'; 
2) It Won't Be You; 
3) Spider Man Blues; 
4) Empty Bed Blues (part 1); 
5) Empty Bed Blues (part 2); 
6) Put It Right Here (Or Keep It Out There); 
7) Yes Indeed He Do!; 
8) Devil's Gonna Git You; 
9) You Ought To Be Ashamed; 
10) Washwoman's Blues; 
11) Slow And Easy Man; 
12) Poor Man's Blues; 						play
13) Please Help Me Get Him Out Of My Mind; 
14) Me And My Gin; 
15) I'm Wild About That Thing; 
16) You've Got To Give Me Some; 
17) Kitchen Man; 
18) I've Got What It Takes (But It Breaks My Heart To Give It Away); 
19) Nobody Knows You When You're Down And Out; 
20) Take It Right Back ('Cause I Don't Want It Here).

CD II: 
1) Standin' In The Rain Blues; 
2) It Makes My Love Come Down; 
3) Wasted Life Blues; 
4) Dirty No-Gooder's Blues; 
5) Blue Spirit Blues; 					play
6) Worn Out Papa Blues; 
7) You Don't Understand; 
8) Don't Cry Baby; 
9) Keep It To Yourself; 
10) New Or­leans Hop Scop Blues; 
11) See If I'll Care; 
12) Baby Have Pity On Me; 
13) On Revival Day; 
14) Moan, You Moa­ners; 
15) Hustlin' Dan; 
16) Black Mountain Blues; 
17) In The House Blues; 
18) Long Old Road; 
19) Blue Blues; 
20) Shipwreck.

These recordings reaching from the height of Bessie Smith's fame into her decline in popularity are required listening, covering the years 1928 through 1931. Not only was her voice stronger than ever, but her control over the material was topnotch; she balanced on the fine line between seductive charm and overt sexuality with apparent ease. Some of her best material ever appears on volume 4 of this 5-volume set, including "Standin' in the Rain Blues," "Empty Bed Blues" (speaking of overtness...), "Devil's Gonna Git You," "I'm Wild About That Thing," "Blue Spirit Blues"... but it's useless to even try to list favorites. Smith's voice is so rich and expressive despite the primitive recording technology of the day, one can only imagine what it must have been like to hear her live. And trombonist Charlie Green and pianist James P. Johnson are featured prominently here as well. --Genevieve Williams
This is quite a nice set. Columbia was Bessie's own label, and Sony has done a nice job of issuing her tracks on CD: the sound is great. Nice booklet too. I always like the Chronological Classics (Melodie label), and they have five discs of Bessie; still, the Complete Recordings on Columbia is a really nice set at a really good price. Can't go wrong here: includes the three great tracks Bessie recorded on 8 May 1929 with Clarence Williams (piano) & Eddie Lang (guitar): "I'm Wild About that Thing," "You've Got to Give Me Some," and "Kitchen Man." Highly recommended. ---Sebastien Melmoth
download:
Zmieniony (Wtorek, 03 Wrzesień 2013 20:56)