Howlin' Wolf - Howlin' Wolf (1962)
Howlin' Wolf - Howlin' Wolf (1962)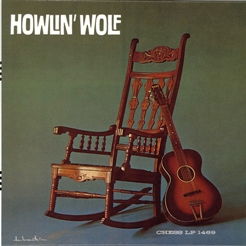 01. Shake for Me
02. Red Rooster Howlin' Wolf
03. You'll Be Mine
04. Who's Been Talkin'
05. Wang-Dang-Doodle
06. Little Baby
07. Spoonful
08. Going Down Slow Oden
09. Down in the Bottom
10. Back Door Man
11. Howlin' for My Baby Howlin' Wolf
12. Tell Me

Personnel:
Howlin' Wolf (guitar, harmonica, vocals)
Jimmy Rogers, Otis Smokey, Jody Williams (guitar)
Otis Spann, Johnny Jones, Hosea Lee Kennard (piano)
Hubert Sumlin, Freddy Robinson, William Johnson (guitar)
Lafayette Leake, Henry Gray (piano)
Donald Hankins (baritone sax)
Willie Dixon, Buddy Guy (bass)
Arnold Rogers (tenor sax)
Earl Phillips, Sam Lay, Fred Below (drums)
Junior Blackman, S.P. Leary, Sammy Lewis (drums)

Howlin' Wolf is the second album from Chicago blues singer/guitarist/harmonicist Howlin' Wolf. It is a collection of six singles previously released by the Chess label from 1960 through 1962. Because of the illustration on its sleeve (by Don Bronstein), the album is often called The Rockin' Chair Album, a nickname even added to the cover on some reissue pressings of the LP.
In 1966, fellow Chess artist Koko Taylor recorded a cover version of "Wang Dang Doodle" which reached #4 on the Billboard's R&B Charts and became a minor crossover hit by making #58 on the Billboard Hot 100. Earlier in 1963 Sam Cooke released a single of "Little Red Rooster" making #7 on the R&B Singles chart and #11 on the Hot 100. In 1969 the songs "Shake for Me" and "Back Door Man" were used in the lyrics to the Led Zeppelin song "Whole Lotta Love".
In 1985 the album won a Blues Music Award by The Blues Foundation for 'Classics of Blues Recordings—Album'. In 2003, the album was ranked #223 on Rolling Stone magazine's list of the 500 greatest albums of all time and described as "an outrageous set of sex songs written by Willie Dixon." It was named the third greatest guitar album of all time by Mojo magazine in 2004.
download (mp3 @320 kbs):
yandex mediafire ulozto gett solidfiles
Zmieniony (Wtorek, 09 Luty 2021 17:34)