Johnny Winter - Texas Pop Festival 1969
Johnny Winter - Texas Pop Festival 1969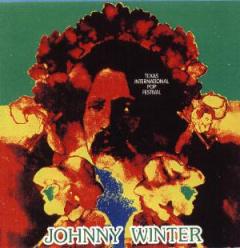 1.    Introduction
2.    Mean Town Blues
3.    Black Cat Bone
4.    Mean Mistreater
5.    Talk to Your Daughter
6.    Look Up
7.    I Can Love You Baby

Johnny Winter (vocals, guitar, mandolin); 
Johnny Winter; Edgar Winter (vocals, piano); 
Isaac Payton Sweat (guitar, bass),
John Turner (drums) , 
Tommy Shannon (bass).

It was 1969 when Lewisville, a small farm town of approximately 9,000 residents, became the site of a music festival that attracted 150,000 hippies, bikers and music lovers. As a result of that momentous event, the Texas Historical Commission (THC) has recognized the Texas International Pop Festival as a significant part of Denton County history by awarding it an Official Texas Historical Marker.
The Texas festival featured 25 musical acts. In Hayner's historical narrative submitted to THC, he wrote: "The festival opened with an unknown band named Grand Funk Railroad. The line-up included rock and roll and rhythm and blues. B.B. King played all three days. Other blues acts were present such as Johnny Winter, The James Cotton Blues Band, Canned Heat, Delaney & Bonnie & Friends, and Freddie King. Rhythm and blues was represented by Sam & Dave and Sly & The Family Stone. Rock and blues crossover acts Rotary Connection, Ten Years After and Janis Joplin tied the genre together. Jazz was represented by flutist Herbie Mann, and even a bit of Cajun sound was made by Tony Joe White. Mainstream rock music was represented by Chicago Transit Authority, Spirit, Santana, Nazz, Sweetwater and an up-and-coming blockbuster band from England named Led Zeppelin."
In addition, a free stage was constructed at a public campground at Lewisville Lake, which was five-and-one-half miles north of the festival grounds at the motor speedway. Each evening the campground attracted thousands of festival campers. Local bands performed on the free stage along with some of the big name acts after playing the main stage. Famous icon of the 60s, Wavy Gravy, acquired his moniker at the free stage. --- blogs.dallasobserver.com
download (mp3 @VBR kbs):
yandex mediafire hostuje ulozto solidfiles global-files
Zmieniony (Wtorek, 16 Marzec 2021 21:12)