Koko Taylor - Old School (2007)
Koko Taylor - Old School (2007)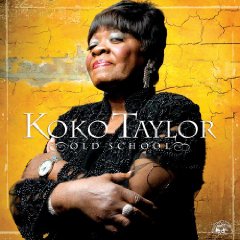 1. Piece Of Man
2. Gonna Buy Me A Mule
3. Black Rat
4. Money Is The Name Of The Game
5. You Ain't Worth A Good Woman
6. Better Watch Your Step
7. Bad Avenue
8. Bad Rooster
9. Don't Go No Further
10. All Your Love
11. Hard Pill To Swallow
12. Young Fashioned Ways

Koko Taylor (vocals); 
Vino Louden, Criss Johnson, Shun Kikuta, Bob Margolin (guitar); 
Billy Branch (harmonica); 
Mark "Kaz" Kazanoff (tenor saxophone); 
Brother John Kattke, Stanley Banks (piano); 
Melvin Smith (bass); 
Jimmy Sutton (upright bass); 
Kenny Hampton (electric bass); 
Willie 'The Touch' Hayes, Rick Nelson (drum).

Old School is Koko Taylor's first new album in seven years, and after a series of health issues that sidelined her for a while, it could be viewed as a comeback of sorts, but if so, there aren't any signs of rust here. She still belts out her trademark Chicago blues like she always has, sidestepping any 21st century recording tricks for a straightforward set that wouldn't sound out of place next to her classic Chess sides from the early '60s. It's also encouraging that she wrote nearly half the tunes here, while turning in solid covers of a pair of Willie Dixon songs ("Don't Go No Further" and "Young Fashioned Ways"), one by Magic Sam ("All Your Love") and a scorching performance of Lizzie Lawler's classic "Black Rat" that rivals Big Mama Thornton's version. A rendition of "Bad Rooster" is also top notch. Of the originals, the lead track, "Piece of Man," is the most impressive, setting the tone and feel for an album that clearly celebrates Taylor's unshakable Chicago blues roots. Old School isn't sleek, pretty, posed or polished, but is instead raw, ragged and as real as a biting winter wind off of Lake Michigan. Call it a comeback if you want, but this is the territory that Koko Taylor has lived in for nearly fifty years. She owns this stuff. Call it a continuance. This CD was nominated for a Grammy award in 2007 for Best Traditional Blues Album. ---Steve Leggett, allmusic.com
download (mp3 @320 kbs):
yandex mediafire ulozto solidfiles global-files
Zmieniony (Piątek, 26 Marzec 2021 20:51)