Magic Sam – All Your Love – Blues Collection 21
Magic Sam – All Your Love – Blues Collection 21 (1995)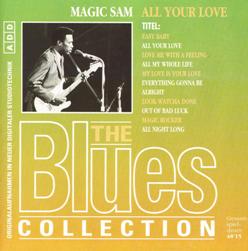 01. Magic Sam - All Your Love (2:56) 
02. Magic Sam - Everything Gonna Be Alright (2:54) 
03. Magic Sam - Look Watcha Done (2:13) 
04. Magic Sam - Easy Baby (3:23) 
05. Magic Sam - All My Whole Life (2:15) 
06. Magic Sam - Love Me with a Feeling (2:09) 
07. Magic Sam - She Belongs to Me (2:33) 
08. Magic Sam - Out of Bad Luck (2:24) 
09. Magic Sam - Roll Your Moneymaker (2:46) 
10. Magic Sam - Call Me if You Need Me (3:03) 
11. Magic Sam - Magic Rocker (2:31) 
12. Magic Sam - All Night Long (2:49) 
13. Magic Sam - 21 Days in Jail (2:43) 
14. Magic Sam - Love Me This Way (2:50) 
15. Magic Sam - My Love Is Your Love (2:41) 
16. Magic Sam - Mr. Charlie (2:36) 
17. Magic Sam - Blue Light Boogie (2:39) 
18. Magic Sam - You Don't Have to Work (2:39)

Samuel Gene Maghett Magic Sam (1937.02.14/Grenada, MS – 1969.12.01/Chicago, IL) was generally acknowledged as among the most brilliant of the young up-and-coming guitarists on a crowded Chicago blues scene in the 1950s and 1960s. Along with players like Otis Rush and Buddy Guy, Magic Sam helped introduce a more modern sound on electric guitar to the blues. He also was a gifted, expressive singer who was certainly capable of producing music with crossover appeal, much as B.B. King had done.
Growing up in a farming family in the Delta, young Sam Maghett made his own primitive instruments from cigar boxes and wire, and taught himself to play the songs he heard on the radio. When he was thirteen, the family moved to Chicago. Within a few years, Maghett was playing gigs around town in Homesick James's band. By the time he was eighteen, Maghett was leading his own band under the stage name of Good Rockin' Sam. By age twenty, Magic Sam had both his new, permanent stage name and his first recording session, for the Cobra label. That first session produced All Your Love which for many years was his signature song (the melody of which was, by most accounts, reworked into quite a few of his other songs as well).
Sam recorded several other 45s for Cobra during the next few years, finding local success with 21 Days in Jail and Easy Baby. Cobra, however, folded in 1960. Around the same time, Maghett was drafted into the Army.
download (mp3 @VBR kbs):
yandex mediafire uloz.to solidfiles global.files workupload
Zmieniony (Sobota, 24 Kwiecień 2021 20:12)