Memphis Minnie – Queen Of The Blues – Mojo Workin' (1997)
Memphis Minnie – Queen Of The Blues – Mojo Workin' (1997)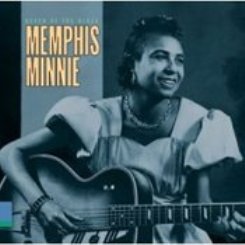 1.When the levee breaks (3:09) – 
2.Joliet bound (3:06) – 
3.He's in the ring (3:07) – 
4.Joe Louis strut (2:49) – 
5.New Orleans stop time (2:59) – 
6.Blues everywhere (2:49) – 
7.Please don't stop him (2:54) – 
8.Has anyone seen my man? (2:43) – 
9.I'd rather see him dead (2:47) – 
10.Call the fire wagon (2:23) – 
11.Bad outside friends (2:28) – 
12.Lonesome shack (2:51) – 
13.Pig meat on the line (2:33) – 
14.Looking the world over (2:36) – 
15.When you love me (2:42) – 
16.Love come and go (2:38) – 
17.Fashion plate daddy (2:58) – 
18.Killer diller blues (2:29).

"Queen of the blues?," you may ask. After you check out this CD, you'll understand why. There were many outstanding female blues vocalists of the first half of the 20th Century, but Minnie not only sang, she was also an accomplished guitarist and wrote many of her songs.
This is evidenced by "When the Levee Breaks," which starts off this eighteen track set. Minnie co-wrote and plays guitar on the song, but the lead vocals are by her husband, co-writer "Kansas" Joe McCoy. It's the same song that was later recorded by Led Zeppelin on their fourth album (the same one that included "Stairway to Heaven"). It also seems to be Kansas Joe singing on "Joliet Bound," which immediately follows the first track.
Vocally, it's pretty much Minnie throughout the rest of the CD, although sometimes it's hard to tell because of her husky singing voice. This is an area where the liner notes could really have been helpful, but this is mere nit-picking.
In addition to those songs mentioned, other stand out cuts are "New Orleans Stop Time," "Call the Fire Wagon," and the unabashedly sexual, "I'd Rather See Him Dead." Also of note are "He's in the Ring" and "Joe Louis Strut," which are both tributes to the former heavyweight champion.
Memphis Minnie is the real thing. She's raw, bold and can play some mean guitar. Her playing ranges from "gut bucket" (a la Robert Johnson) to a more "rocking" style, later popularized by the likes of Chuck Berry (who is rumored to have recorded a jam session with her). Simply put, this CD should be a part of any comphrensive blues collection. ---Ibochild, amazon.com
download:   uploaded anonfiles 4shared mega yandex gett mixturecloud mediafire ziddu
Zmieniony (Środa, 29 Maj 2013 14:35)