Omar & the Howlers - The Screamin' Cat (2000)
Omar & the Howlers - The Screamin' Cat (2000)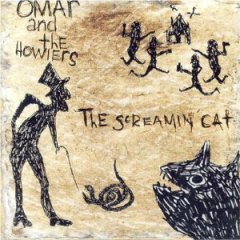 1. When Sugar Cane Was King  
2. The Screamin' Cat
3. One Hundred Pounds of Pain
4. Radio Man 
5. Bad Ol' Man  
6. Steady Rock 
7. Snake Oil Doctor 
8. Too Many People Talkin' 
9. Party Girl 
10. Girl's Got Rhythm
11. Drug Store Candy Smile 
12. Automatic 

Omar & The Howlers: Omar (vocals, guitar); 
Papa Mali (electric & slide guitars, dobro, 
Hammond B-3 organ, bass); B.E. "Frosty" 
Smith (Fender Rhodes piano, 
Hammond B-3 organ, drums, percussion); 
Paul Junior (bass).

Although no new ground is covered on The Screamin Cat, Austin-based Omar and the Howlers simply continue to forge ahead, creating another energetic blues and boogie disc. Luckily, the Howlers have never stuck to one style of blues; they aren't purists, which allows plenty of room for a hopped-up mixture of swamp blues, Memphis soul, roots rock, and whatever else it takes to get their audience moving. Their party ethics are personified on The Screamin Cat by songs like "Party Girl," "Steady Rock," "Snake Oil Doctor," and the title track. Lead guitarist Omar Dykes' gravelly Howlin Wolf roar remains intact while Howler musical duties are shared by Bruce Jones on bass (three tracks); Rick Chilleri on drums (one track); Malcolm "Papa Mali" Welbourne on guitar, B-3, and bass; and B.E. "Frosty" Smith on drums, percussion, B-3, and Fender Rhodes. ---Al Campbell, Rovi
download:   uploaded anonfiles mega 4shared mixturecloud yandex mediafire ziddu
Zmieniony (Niedziela, 09 Czerwiec 2013 15:56)