ZZ Top - 30 Most Slow Blues (2017)
ZZ Top - 30 Most Slow Blues (2017)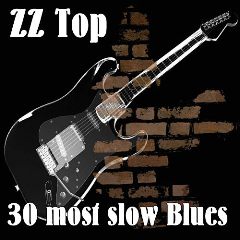 01. Blue Jean Blues
02. It's So Hard
03. Joe Blues
04. 2000 Blues
05. I Need You Tonight
06. Heaven, Hell Or Houston
07. Made Into A Movie
08. Old Man
09. Certified Blues
10. Sure Got Cold After the Rain Fell
11. Brown Sugar
12. Cover Your Rig
13. Just Got Back From Baby's
14. Fuzzbox Voodoo
15. Jesus Just Left Chicago
16. Mexican Blackbird
17. El Diablo
18. Alseep in the Desert
19. Hot Blue And Rightehous
20. Vincent Price Blues
21. Breakaway
22. A Fool For Your Stockings
23. Heawen, Hell Or Houston
24. Mushmouth Shoutin'
25. Leila
26. Over You
27. It's Too Easy Manana
28. Goin' So Good
29. Que Lastima
30. Bang Bang

In 1969, ZZ Top got its start in Houston, Texas. The original ZZ Top members include Billy Gibbons on vocals and guitar; Dusty Hill on vocals and bass; and Frank Beard rocking out on the drums. The original band members have performed for more than 40 years, which is a distinct accomplishment for rock bands. ZZ Top Gets Its Start
The remnants of two Houston area garage bands -- Moving Sidewalks (Billy Gibbons) and American Blues (Frank Beard and Dusty Hill) -- formed the band. They began to get significant attention with the release of their third album in 1973, which is called Tres Hombres. The blues-based, guitar-driven boogie beat made them distinctive, as did their signature sunglasses, long beards, and flashy outfits.
While many Southern Rock bands who had thrived in the '70s were fading in the '80s, ZZ Top remained popular by working synthesizers and other electronic enhancements to their sound to keep pace with a changing audience. Nonetheless, the self-styled "Little Ol' Band From Texas" stayed true to its blues roots and Tex-Mex themes.
In 1983, the band released Eliminator, which was their top-selling album. In fact, it sold more than 10 million copies in the United States. The Recording Industry Association of America says ZZ Top is one of the top-selling artists in America. By 2014, they had sold more than 50 million albums. As of 2016, the band had released 11 gold, seven platinum, and three multi-platinum records.
Beard, Gibbons, and Hill also continue to write the vast majority of their songs, as they have throughout their career. The group continues to tour and record. ---Dave White, thoughtco.com
Amerykańskie trio hard rockowe, założone w 1969 roku, aktywne do dziś. Przez 40 lat działalności nie zaszła w nim ani jedna zmiana personalna. Członkowie zespołu to wokalista Billy Gibbons, basista Dusty Hill oraz perkusista Frank Beard. Największe sukcesy grupa odnosiła w latach osiemdziesiątych, zespół zdobył serca fanów dynamicznymi piosenkami, ozdobionymi charakterystycznymi, szybkimi gitarowymi riffami, a także dzięki niepowtarzalnemu wizerunkowi scenicznemu. Gibbons i Hill zapuścili długie brody, ubierali się w obszerne koszule, workowate spodnie, kapelusze golfowe i okulary przeciwsłoneczne. Ten specyficzny wygląd przyniósł zespołowi rolę w filmie "Powrót do przyszłości 3", gdzie muzycy pojawili się jako kapela grająca na małomiasteczkowej zabawie na Dzikim Zachodzie. Nie potrzebowali żadnej charakteryzacji. Do największych przebojów zespołu należą takie utwory, jak " La Grange", "Gimme All Your Lovin", "Rough Boy" czy "Viva Las Vegas". W roku 2004 grupa została wprowadzona do Rock And Roll Hall Of Fame. ---filmweb.pl
download (mp3 @320 kbs):
yandex mediafire ulozto cloudmail.ru bayfiles