Buckwheat Zydeco – Trouble (1999)
Buckwheat Zydeco – Trouble (1999)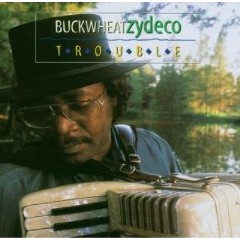 1. Put It In The Pocket
2. Trouble
3. Hard To Stop
4. Hard Chargin'
5. Allons A Boucherie
6. Crossroads
7. Do You Remember The Time?
8. Heard You Twice The First Time
9. Out On The Town
10. Wait A Minute Baby

Personnel: 
Buckwheat Zydeco (accordion, keyboards); 
Stanley Dural (vocals, accordion); 
Joseph "Cookie" Chavis, Michael Melchione (guitar); 
Vince Williams (tenor saxophone); 
Andre "Big Dre" Carter, Rev. Curtis Watson (trumpet); 
Gerald Dural (keyboards); 
Kevin Menard (drums); 
Patrick Landry (rub-board).

Over the years, accordion and keyboard player Stanley "Buckwheat" Dural Jr. has extended his sphere of influence far beyond southern Louisiana and East Texas. Today Dural's still going strong; he's even releasing this album on his very own record label. Central to his allure as a singer and instrumentalist is how fascinatingly Dural works his cadences into the mighty file-seasoned grooves conjured by world-class bassist Lee Allen Zeno and drummer Kevin Menard, who are lent able assistance by horns, a rhythm guitarist, a second keyboardist, and a washboard player. Songs written by Dural (or cowritten with his longtime manager Ted Fox) have all the let-the-good-times-roll exuberance suggested by titles like "Hard Chargin'," "Hard to Stop," and "Put It in the Pocket." The rhythms cool down only for the unabashedly charming "Do You Remember the Time?" Dural's one misstep is subverting the poignant storytelling aspect of the Robert Johnson classic "Crossroads" in the name of fun. All told, Trouble's pleasure quotient almost matches that of 1990's Where There's Smoke There's Fire. --Frank-John Hadley ---Editorial Review
download:  uploaded anonfiles mega 4shared mixturecloud yandex mediafire ziddu