Abbey Lincoln – Temptation – Lost Love Version (2013)
Abbey Lincoln – Temptation – Lost Love Version (2013)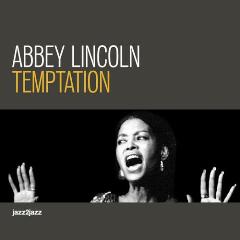 01. My Man
02. Lost in the Stars
03. When a Woman Loves a Man
04. Let Up
05. When Malindy Sings
06. Strong Man
07. Come Sunday
08. Brother, Where Are You?
09. I Must Have That Man
10. Happiness Is a Thing Called Joe
11. Tender as a Rose
12. Laugh, Clown, Laugh
13. Softly as in a Morning Sunrise
14. Left Alone
15. Straight Ahead
16. That's Him
17. Thursday's Child
18. Blue Monk
19. Retribution
20. Porgy
21. Afro Blue
22. Don't Explain
23. Lonely House
24. Ain't Nobody's Business If I Do

As with her hero Billie Holiday, Abbey Lincoln always meant the lyrics she sang. A dramatic performer whose interpretations were full of truth and insight, Lincoln actually began her career as a fairly lightweight supper-club singer. She went through several name changes (including Anna Marie, Gaby Lee, and Gaby Woolridge) before settling on Abbey Lincoln. She recorded with Benny Carter in 1956 and performed a number in the 1957 Hollywood film The Girl Can't Help It. Lincoln's first of three albums for Riverside (1957-1959) had Max Roach on drums and he was a major influence on her; she began to be choosy about the songs she sang and to give words the proper emotional intensity. Lincoln held her own on her early dates with such sidemen as Kenny Dorham, Sonny Rollins, Wynton Kelly, Curtis Fuller, and Benny Golson. She was quite memorable on Roach's Freedom Now Suite, showing some very uninhibited emotions. Lincoln's Candid date Straight Ahead (1961) had among its players Roach, Booker Little, Eric Dolphy, and Coleman Hawkins, and she made some important appearances on Roach's Impulse! album Percussion Bitter Suite.
Abbey Lincoln and Max Roach were married in 1962, an association that lasted until 1970. They worked together for a while but Lincoln (who found it harder to get work in jazz due to the political nature of some of her music) became involved in acting and did not record as a leader during 1962-1972. She finally recorded for Inner City in 1973 and gradually became more active in jazz. Her two Billie Holiday tribute albums for Enja (1987) showed listeners that the singer was still in her prime, and she recorded several excellent sets for Verve in the 1990s. In the following years, she released a handful of recordings including Over the Years in 2000; It's Me in 2003; and her final recording, Abbey Sings Abbey, in 2007. Abbey Lincoln died in New York City on August 14, 2010; she was 80 years old. Because she put so much thought into each of her recordings, it is not an understatement to say that every set she issued is well worth owning. ---Scott Yanow, Rovi
Gaby Woolridge, bo takie jest jej prawdziwe imię i nazwisko, zaczęła pojawiać się przed publicznością jako wokalistka na początku lat 50. Pracowała w chicagowskich klubach pod różnymi pseudonimami (m.in. jako Anna Marie i Gaby Lee). Pod własnym nazwiskiem wystąpiła w połowie lat 50. w klubie Moulin Rouge w Los Angeles. Wtedy dokonała także pierwszych nagrań płytowych z Bennym Carterem. Koncertowała też z muzykami bopowymi, jak Thelonious Monk, Mal Waldron i Max Roach.
Zaczęła też sama pisać teksty i komponować, manifestując często w swych utworach problemy związane z przebudzaniem się świadomości czarnej społeczności USA. Współpracowała z Roachem (od 1962 r. jej mężem) przy wielu ważnych dla jazzu nagraniach (jak "Freedom Now Suite" i "Straight Ahead").
W latach 60. rozpoczęła karierę aktorską, pojawiając się w filmach "Nothing But A Man" (1964) i "For Love Of Ivy" (1968). Pod wpływem impresji związanych z pobytem w Afryce (w połowie lat 70.) przyjęła nowe nazwisko Aminata Moseka. Jej pełen emocji głos sprawiał, że zawsze nawiązywała doskonały kontakt z publicznością. Jej styl wokalny obejmuje ballady wykonywane przy ogromnym natężeniu emocjonalnym. Pod koniec lat 80. artystka ponownie znalazła się w kręgu najważniejszych wokalistek współczesnego jazzu, a płyty, które zrealizowała z udziałem wybitnych jazzmanów (Dave Liebman, Oliver Lake, Steve Coleman, Charlie Haden, Roy Hargrove, Kenny Barron, Pat Metheny, Stan Getz, Hank Jones, Clark Terry, Grady Tate, Stanley Turrentine, Archie Shepp), umiejscowiły jej sztukę wokalną wśród najwybitniejszych osiągnięć jazzu ostatnich dziesięcioleci.
W 2000 roku wystapiła pierwszy raz w Polsce podczas festiwalu Ery Jazzu w Poznaniu. Rok później podczas Jazz Jamboree. --- diapazon.pl
download:  uploaded anonfiles yandex 4shared solidfiles mediafire mega filecloudio