Diane Schuur – The Gathering (2011)
Diane Schuur – The Gathering (2011)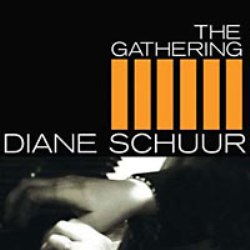 01 – Why Can't He Be You
02 – Healing Hands of Time
03 – Beneath Still Waters
04 – Til I Can Make It On My Own			play
05 – Don't Touch Me
06 – Today I Started Loving You Again
07 – Til I Get It Right					play
08 – Am I That Easy To Forget
09 – When Two Worlds Collide
10 – Nobody Wins

Personnel: 
Diane Schuur (vocals, piano); 
Mark Knopfler, Steve Buckingham, Steve Gibson (guitar); 
Mike Rojas (Wurlitzer piano); 
Eddie Bayers (drums).
Audio Mixer: Ed Seay.

It would, after 19 previous albums and two Grammy awards, be presumptuous to suggest that Diane Schuur has finally found her niche. Still, there's no denying that this 10-track collection of classic country tunes, each wrapped in an understated jazz arrangement, represents Schuur at her absolute best. The Gathering finds the 57-year-old singer at her most subdued, eschewing the pyrotechnics that have defined much of her earlier work in favor of a softer, stripped-down style that, emphasizing her voice's natural beauty, is ideally suited to the material. The power and range are still there: Look no further than the sustained note that closes "Why Can't He Be You" to appreciate that Schuur has lost none of her vocal might. But she clearly appreciates that too much flashy grandstanding would compromise the fragility of such ache-fueled gems as "Am I That Easy to Forget," "Nobody Wins," "Healing Hands of Time" and "Til I Can Make It on My Own."
Notable guests enhance various tracks, including Vince Gill, Alison Krauss, ace guitarists Mark Knopfler and Larry Carlton and saxophonist Kirk Whalum. But, like Schuur, all are disinterested in personal showmanship, concerned only with the integral allure of these bruised pieces. "Today I Started Loving You Again," arguably the standout among a stellar assortment of covers, provides an ideal case in point, with Carlton's searing intro and Gill's temperate vocal accompaniment essential to the track's stunning holism. ---Christopher Loudon
Singer-pianist Diane Schuur joins the growing list of jazz musicians who've found inspiration in country music, including Wynton Marsalis, who recently released two CDs with Willie Nelson. Such collaborations go back as far as 1930 when the genres' founding fathers, Jimmie Rodgers and Louis Armstrong, recorded "Blue Yodel No. 9" together. On the Nashville-recorded "The Gathering," Schuur stretches out by turning to the golden age of country songwriting from the 1950s through the 1970s, including tunes by Hank Cochran, Nelson, Merle Haggard, Roger Miller and Kris Kristofferson.
Like the best country singers, Schuur focuses on the storytelling and sticks closely to the melody. She varies the dynamics and bends and stretches the notes, for example, closing the Patsy Cline hit "Why Can't He Be You" by holding the final "he" for nearly 10 seconds. She keeps her impressive jazz chops in check, using them more as embellishments, as on the end of Haggard's "Today I Started Loving You Again" (with Vince Gill on backup vocals), where she briefly engages in some call-and-response wordless scatting with guitarist Larry Carlton.
Schuur sings with heartfelt emotion on such Tammy Wynette tunes as "Til I Can Make It On My Own" and "Til I Get It Right," but most of the tracks are slow- to medium-tempo ballads that eventually tend to overlap one another. Gill and Alison Krauss are largely wasted providing harmony vocals on two tracks rather than engaging in real duets with Schuur.
This is an authentic crossover album in which Schuur shuns obvious gimmicks like singing with a twang or using pedal steel guitar. Country fans should enjoy hearing favorite songs performed by a singer with jazz sensibilities, while jazz aficionados might gain new appreciation for country songwriting. --- indianexpress.com
download (mp3 @224 kbs):
uploaded yandex 4shared mediafire mega solidfiles zalivalka cloudmailru filecloudio oboom
Zmieniony (Piątek, 26 Wrzesień 2014 11:32)