Oliver Nelson - Main Stem (1961)
Oliver Nelson - Main Stem (1961)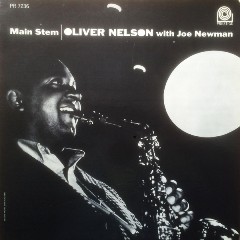 1 	Main Stem 	6:48
2 	J & B 	5:45
3 	Ho! 	4:30
4 	Latino 	6:06
5 	Tipsy 	5:15
6 	Tangerine 	7:00

Bass – George Duvivier
Congas – Ray Barretto
Drums – Charlie Persip
Piano – Hank Jones
Tenor Saxophone, Alto Saxophone – Oliver Nelson
Trumpet – Joe Newman

Unlike most of Oliver Nelson's recordings, this one has the feel of a jam session. A Prestige set, Nelson (on tenor and alto) teams up with trumpeter Joe Newman (in exciting form), pianist Hank Jones, bassist George Duvivier, drummer Charlie Persip, and Ray Barretto on congas. There are two superior standards ("Mainstem" and "Tangerine") and four of Nelson's more basic originals. The spirited solos of Nelson and Newman are strong reasons to get this colorful session. ---Scott Yanow, AllMusic Review
When Main Stem was released in the late summer of 1961, The Blues And The Abstract Truth had been on the market since February of that year and life for Oliver Nelson moved to a different trajectory. With almost universal acclaim for this album and its signature piece Stolen Moments, Nelson began his transition from small-group musician to big-band composer/arranger, and Main Stem was the beginning of the small-group final chapter.
Prestige Records was one of those labels that was open to musicians who were looking for freedom to play what and how they liked. Thus this session was a free-flowing affair, not only with the front line, but also with a rhythm section that had Ray Barretto on conga on all tracks. At the time of this recording, trumpeter Joe Newman was just completing a twelve-year stint with the Count Basie band. Newman was a well-tested and accessible trumpeter in the Louis Armstrong tradition. On the title track Main Stem, Newman rips off a stunning solo and again on Latino his big open sound takes flight in all its assertiveness.
Pianist Hank Jones is always Mr. Taste playing the right note or chord at the right time, and is always a harmonically knowledgeable player. His opening on the blues-based J&B is note perfect, and on Ho! he delivers a succinct opening chorus and then several bars later comes back-in with a dazzling short break.
The Oliver Nelson that is featured in this session on both tenor and alto saxophone is a player of intense passion who cherishes the space to stretch out and have the playing time to fully express his musical ideas: whether offering a series of measured approaches as he builds his solo on Main Stem, to the jumpier lines on Tipsy, and the single-take flowing runs on Tangerine with its Latin flavour. ---Pierre Giroux, musicweb-international.com
download (mp3 @320 kbs):