Aga Zaryan - Looking, Walking, Being (2010)
Aga Zaryan - Looking, Walking, Being (2010)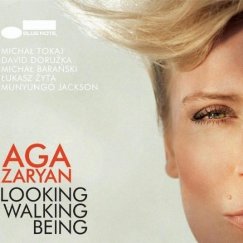 01 Cherry Tree Avenue 2:42 
02 Looking, Walking, Being 4:48 
03 Let Me 5:02 
04 For The New Year, 1981 4:02 
05 The Stars Are As Lonely As Us 5:06 
06 Seeking My Love 7:42 
07 February Evening In New York 4:04 
08 My Name 5:53 
09 Temptation Game 6:32 
10 Wanting The Moon 5:23 
11 What Is This Thing Called Happiness ? 4:39 
12 The Thread 6:36

Michał Tokaj – piano, 
Michał Barański – bass, 
Łukasz Żyta – percussion, 
David Dorużka – guitars,
Munyungo Jackson – drums

In Jazz Forum magazine Aga Zaryan's "Looking Walking Being" was voted as best album in 2010. And it certainly deserves your attention especially if you happen to like jazz singers because with this album she simply outclassed any other jazz singer in Poland. Moreover her singing is so individual and unique that she may very well count on being also recognized abroad. In fact she already made significant step in this direction by recording this CD for legendary Blue Note label.
One of the advantages of having behind you marketing power of such a renown company as Blue Note is that potential listerner has plenty of information in English regarding Aga, situation not that typical with other Polish jazz musicians. Let me therefore put in this post only the most basic information plus links of web pages where you can find more extensive informations. Born in 1976 as Agata Skrzypek she attended music schools in Warsaw and was tutored by legendary Polish jazz singer Ewa Bem. Her first album "My lullaby" was issued in 2002 with next "Picking up pieces" coming in 2006 (double platinum status). In 2007 she recorded "Umiera piękno" (when beauty dies) dedicated to those who perished in tragic Warsaw Uprising in 1944 (among them her relatives). For this effort she got Fryderyk Award in 2008 - the most significant prize in Polish music industry and was also nominated for Women Of The Year 2008 Award by Gazeta Wyborcza, one of the most influential newspapers in Poland. Finally she was voted as best jazz vocalist in 2007, 2008 and 2009 by above mentioned Jazz Forum magazine. --- polish-jazz.blogspot.com
Piąta już płyta to autorski album z tekstami piosenek wokalistki Agi Zaryan i wierszami współczesnej amerykańskiej poetki Denise Levertov. Muzykę skomponowali: Michał Tokaj, Larry Koonse (znany ze współpracy z Natalie Cole czy Dianą Krall), David Dorużka i Zbigniew Wegehaupt.
Nagrane zostało dwanaście utworów, w których słychać wpływy bossa novy, samby, rytmów afrykańskich, jazzu, a nawet jazzrocka! Kompozycje zaskakują świeżością i bogactwem tradycji. Stylistycznie materiał na nowa płytę różni się od dotychczasowych dokonań artystki. Ze względu na różnorodność, pozostaje jednak w nurcie szeroko rozumianej muzyki jazzowej. Liryczne, nastrojowe ballady w połączeniu z tekstami Agi Zaryan i filozoficznymi wierszami Denise Levertov, tworzą niepowtarzalny klimat.
Teksty utworów Agi Zaryan to historie związane z doświadczeniami artystki, opisujące jej widzenie rzeczywistości. Dzięki słowom napisanym przez Agę kompozycje nabrały bardzo osobistego charakteru ( np. "My Name", "Cherry Tree Avenue" czy "Temptation Game" ). ---merlin.pl
download: uploaded yandex 4shared mediafire solidfiles mega zalivalka filecloudio anonfiles oboom
Zmieniony (Piątek, 11 Lipiec 2014 15:00)