Flavio Boltro - 40 Degrees (2003)
Flavio Boltro - 40 Degrees (2003)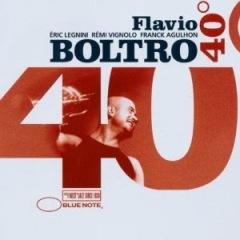 1.  Doctor K (Eric Legnini) 5:34
2.  Idea (Flavio Boltro) 4:45
3.  You're my Everything (Harry Warren) 8:44
4.  Take Away (Flavio Boltro) 5:52
5.  First Smile (Flavio Boltro) 4:10
6.  Jazz A Doc (Flavio Boltro) 8:11
7.  If I Were A Bell (Frank Loesser) 4:49
8.  Sabine (Flavio Boltro) 4:53
9.  Les Amis (Flavio Boltro) 7:59
10.  Magic Boltro (Eric Legnini) 7:09

Personnel:
Flavio Boltro (Trumpet)
Eric Legnini (Piano)
Remi Vignolo (Double Bass)
Franck Agulhon (Drums

Flavio Boltro (born May 5, 1961) is an Italian trumpet and flugelhorn jazz player.
From 1982 to 1985, he plays regularly with Turin's Symphonic Orchestra and the RAI Symphonic Orchestra (Italian TV network). He begins these first jazz gigs with Steve Grossman[disambiguation needed], Cedar Walton and Billy Higgins in several clubs and major festivals. From 1984 to 1986, he participates in the "Linguomania Quintet" of Maurizio Giammarco, with Roberto Gatto on drums, Furio Di Castri on bass, Maurizio Giammarco on sax and Umberto Fiorentino on guitar (Reverberi CD). In 1986, the Italian newspaper " Musica Jazz" gave him the award of "Best musician" of the year. From this time, he played with legendary musicians as Freddie Hubbard, Clifford Jordan, Jimmy Cobb, Bob Berg, Dave Liebman, Don Cherry. In 1987 an another jazz band is decisive in his musical career : the original trio with Manu Roche on drums and Furio Di Castri on bass which is converted in quartet with the venue of Joe Lovano (Imagine CD). In 1992, he released his first album as a leader: "Flabula".
From 1996 to 2000, Michel Petrucciani engaged Flavio in his sextet, which will tour all around the world (Both Worlds CD). In 1997, Flavio participated at the very noticed quintet" Di Battista/Boltro" with Eric Legnini on piano, Benjamin Henocq on drums and Rosario Bonaccorso on bass ("Volare" CD). In 2000, he enters the quintet of the avant-gardist Michel Portal up 2005. He played also with Laurent de Wilde. He released two CDs as a leader with Blue Note Records (EMI): "Road Runner" in 1999 and "40 degrés" in 2003. Then in 2003, he participated at the very original TRIO AIR with Giovanni Mirabassi on piano and Glen Ferris on trombone. The album Air get the award of " Best album of the year 2003 " from the French Académie du Jazz.
In 2012, Flavio Boltro released "Joyful" with a new quintet : Rosario Giuliani (sax), Pietro Lussu (piano), André Ceccarelli (drums) and Darryl Hall (bass). It was influenced by the great spirit of 60's. ---wikipedia
download: uploaded anonfiles yandex 4shared solidfiles mediafire mega filecloudio