Kurt Elling - Dedicated To You (Sing The Music Of Coltrane & Hartman) [2009]
Kurt Elling - Dedicated To You (Sing The Music Of Coltrane & Hartman) [2009]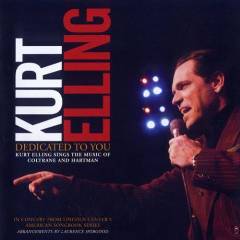 1.All Or Nothing At All
2.It's Easy To Remember
3.Dedicated To You
4.What's New
5.Lush Life
6.Autumn Serenade
6.Say It Over and Over Again
7.They Say It's Wonderful
8.My One And Only Love
9.Nancy With The Laughing Face
10.Acknowledgements
11.You Are Too Beautiful

Artists:
Kurt Elling – voice
Laurence Hobgood – piano
Clark Sommers – bass
Ulysses Owens – drums
Ernie Watts - tenor saxophone (1, 4-7, 10, 12)
Corenlius Dufalo – violin
Ralph Farris – viola
Dorothy Lawson –cello
Mary Rowell – violin

This is a live collection recorded as a part of Lincoln Center's American Songbook Series, a creative homage to the now classic 1963 John Coltrane and Johnny Hartman recording. For this occasion a jazz trio led by Laurence Hobgood, vocalist Kurt Elling's long-time musical partner, pianist and arranger is nestled into the tender brilliance of the string quartet ETHEL. One of the last great exponents of vocalese, Elling is no less a great singing storyteller.
Early on in the set, in the context of "It's Easy to Remember," Elling relates "a poetic jazz memory" of Coltrane and Hartman en route to their recording session. If talk between songs often gets old very quickly, in this instance Elling's recitation is a tour de force. It's as emotionally riveting as any of his singing performances as it concludes with, "We remember them both... ...We're jazz people."
The album opens with an extended, mood-setting intro from ETHEL before Hobgood enters with obsessive chords, a perfect launch for Elling's high dive into the romantic torment of "All Or Nothing At All." After a chorus from Elling in which he breathes many fresh possibilities into the word "all," in comes saxophonist Ernie Watts for some warm, warmer and then hot blowing. Watts shines throughout, most notably on the version of "What's New," which closes with the briefest of cut-glass chords from Hobgood. It's a breathtaking moment that sets an icy martini opening for Elling's deeply felt "Lush Life."
In its creativity this recording affirms just how eloquently "jazz people" honor their own. ---Andrew Velez, allaboutjazz.com
download: uploaded yandex anonfiles 4shared solidfiles mediafire mega filecloudio nornar