Rava ‎– Carmen (1995)
Rava ‎– Carmen (1995)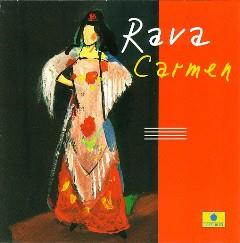 1 	Ouverture 	2:59
2 	Séguedille (Près Des Remparts De Séville) 	8:02
3 	Votre Toast, Je Peux Vous Le Rendre 	7:07
4 	Chanson Bohême 	4:31
5 	Habanera (L'Amour Est Un Oiseau Rebelle) 	6:56
6 	Improvisations Sur Ouverture 	4:16
7 	La Fleur Que Tu M'Avais Jetée 	9:12
8 	Fragments 	5:58
9 	Epilogue 	1:47

Bassoon – Roger Rota
Clarinet [Clarinets] – Gianluigi Trovesi
Drums – Han Bennink
Electric Bass – Enzo Pietropaoli
Flute – Claudio Allifranchini
French Horn – Guido Corti
Guitar – Domenico Caliri, John Schroeder
Harp – Lucia Bova
Oboe – Paolo Brunello
Orchestra – L'Orchestra Sinfonica Dell'Emilia Romagna "Arturo Toscanini"
Trombone – Giovanni Di Stefano
Trumpet – Davide Ghidoni, Enrico Rava
Tuba – Michel Godard 

Carmen is a post-fusion contemporary music album recording by ENRICO RAVA released in 1995 on CD, LP/Vinyl and/or cassette.
Enrico Rava is Italy's greatest jazz musician and one of the outstanding figures on the European jazz scene for the last five decades. He has an immediately recognisable sound and approach whether playing trumpet or flugelhorn. His use of space is crucial, giving maximum impact to each expressive nuance in what he plays. He is a master, capable of fire and lyricism, abandon and control.
Rava was inspired to play trumpet after hearing Miles Davis as an 18-year old. He began to attract attention in the mid 1960s, when he played alongside such notable visitors as Gato Barbieri and Steve Lacy. He then spent several years in New York, working with such artists as Carla Bley, Roswell Rudd, Paul Motian and Lee Konitz.
Based in Italy since the mid '70s, Enrico has often played alongside leading artists from other countries; leading his own bands; and always setting a very high standard for his countrymen to emulate. He has performed alongside Gil Evans, Cecil Taylor, Joe Henderson, John Abercrombie, Ran Blake, Pat Metheny, Martial Solal, Richard Galliano, Dave Douglas, Paolo Fresu......the list could go on. He has released over 50 albums as leader (including the 1975 ECM classic, The Pilgrim And The Stars, and the 1995 set based on Bizet's opera, Carmen). ---sima.org.au
download (mp3 @320 kbs):