Krzysztof Komeda w Polskim Radiu Vol.01 – Nagrania Pierwsze 1952-1960 (2014)
Krzysztof Komeda w Polskim Radiu Vol.01 – Nagrania Pierwsze 1952-1960 (2014)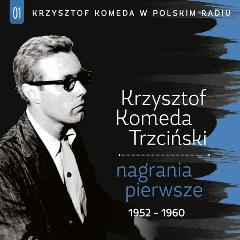 1 How High the Moon 7:06
2 Melomani - September Song (Temat) 0:59
3 Melomani - Caravan 4:16
4 Undecided 3:56
5 All the Things Are You 4:19
6 Don't Worry About Me 5:29
7 The Continental 5:20
8 Out of Nowhere 4:19
9 Fascinating Rhythm 3:55
10 The Man I Love 6:04
11 Laura 5:25
12 That Second 3:09
13 Cute 3:52
14 Get Out of Town 5:05
15 Teach Me to Night 4:21
16 Stella by Starlight 2:38 

This is the first installment in a new series of albums launched by the Polish Radio, which presents radio recordings by the Godfather of Polish Jazz, pianist / composer / bandleader Krzysztof Komeda. Komeda is of course the most familiar name associated with Polish Jazz and his legacy is of crucial importance to Polish and European Jazz. Considering the fact that Komeda´s studio recordings are relatively scarce, the radio recordings are in fact the main source of his recorded legacy, as they include among others the Jazz Jamboree festival appearances by Komeda and his various ensembles over the years.
As the title of this volume suggests, it collects sixteen tracks of the early recordings by Komeda, fourteen of which present him as a bandleader of his groups that vary from a trio to a sextet format. Two additional tracks showcase him as a member of the legendary Melomani group. All these tracks are Jazz standards except for only one original composition co-credited to Komeda and Jan Ptaszyn Wroblewski, another Polish Jazz legendary figure. As a result the music on this album is all about Komeda the pianist, rather than his traditional role of a composer first and performer later and shows his development as a piano player.
The musicians that were the band members of these ensembles led by Komeda are the first, pioneering generation of post-WWII Polish Jazz players, most of which disappeared from the scene to be replaced by the second, then very young generation, that was about to revolutionize Polish Jazz completely by the mid 1960s. These pioneers include the Melomani members: saxophonist Jerzy Matuszkiewicz, trumpeter Andrzej Wojciechowski, bassist Witold Kujawski (died 2011) and drummer Witold Sobocinski. Also worth mentioning are bassist Jozef Stolarz (died 2011) and drummer Jan Zylber (died 1997). The only know names on the Polish Jazz scene appearing on this album and still active today are the a.m. Wroblewski and vibraphonist / composer Jerzy Milian.
Overall this album, although important from obvious historic reasons, does not reflect the "true" Komeda genius, which was about to blossom slightly later, when Komeda started to write his own fabulous music and formed his new ensembles with the top new players of the day.
The recordings are splendidly restored and remastered and nicely packaged in an elegant digipak / slipcase. Dates, places and lineups are faithfully included and even personal liner notes by young Polish Jazz critics are present, but there is no in-depth background material about Komeda and his music, however considering the plentitude of published material and several excellent books on the subject, an intelligent listener can easily bridge the knowledge gap. The only small reservation one might have is the fact that these recordings have been already released many times, more or less legally on the somewhat untamed Polish music market, which means they is already owned by the serious Polish Jazz collectors, probably more than once. ---adambaruch.com
Na pierwszej płycie prezentujemy siedem formacji muzycznych z którymi koncertował i nagrywał Krzysztof Komeda Trzciński w pierwszym okresie. Są to:
• Zespół instrumentalny Krzysztofa Komedy z Krzysztofem Komedą Trzcińskim grającym na fortepianie, Witoldem Kujawskim na basie i Witoldem "Dentoxem" Sobocińskim na perkusji;
• Melomani z Krzysztofem Komedą Trzcińskim na fortepianie, Jerzym "Dudusiem" Matuszkiewiczem na saksofonie tenorowym i klarnecie, Andrzejem "Idonem" Wojciechowskim na trąbce oraz sekcją jak wyżej.
• Kwintet Krzysztofa Komedy ze Zdzisławem Brzeszczyńskim na puzonie, Janem "Ptaszynem" Wróblewskim na klarnecie, Józefem Stolarzem na basie i Janem Zylberem grającym na perkusji.
• Sekstet Krzysztofa Komedy z Krzysztofem Komedą Trzcińskim na fortepianie, Zdzisławem Brzeszczyńskim na puzonie, Jerzym Milianem na wibrafonie, Janem "Ptaszynem" Wróblewskim na klarnecie i saksofonie barytonowym, Józefem Stolarzem na kontrabasie, Janem Zylberem na perkusji oraz M. Zieleniewiczem na rożku angielskim i F. Ciechańskim na rogu;
• Zespół Krzysztofa Komedy z Krzysztofem Komedą Trzcińskim na fortepianie, Janem Byrczkiem na kontrabasie, Tadeuszem Federowskim na perkusji i Józefem Gawrychem na instrumentach perkusyjnych.
• Trio Krzysztofa Komedy: z Krzysztofem Komedą na fortepianie, Adamem Skorupką na kontrabasie i Andrzejem Zielińskim na perkusji.
Najstarszych nagrań na płycie dokonano w Radiu Kraków ze składem Melomanów jak i Zespołu instrumentalnego Krzysztofa Komedy. Z roku 1957 prezentujemy nagrania Kwintetu Krzysztofa Komedy z 2. Festiwalu Muzyki Jazzowej w Sopocie, oraz Sekstetu Krzysztofa Komedy z Polskiego Radia Gdańsk i Sekstetu Komedy z Radia Poznań. W Gdańsku Krzysztof Komeda zaangażował do sekstetu dodatkowo muzyków grających na rożku angielskim i rogu. Nagrania z roku 1959 pochodzą z Radia Warszawa, a w roku 1960 dokonano nagrań podczas 3. Festiwalu Jazz Jamboree odbywającego się również w Warszawie. ---sklep.polskieradio.pl
download (mp3 @320 kbs):