Laura Fygi – Songbook – 20 Greatest Jazz Hits (2004)
Laura Fygi – Songbook – 20 Greatest Jazz Hits (2004)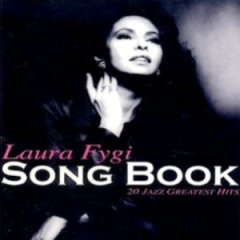 01. Dream A Little Dream
02. Historia De Un Amor
03. Don't It Make My Brown Eyes Blue
04. How Am I Supposed To Live Without You
05. Abrazame
06. Eternal Flame
07. Disse Alguem (All Of Me)
08. Besame Mucho
09. The Lady Wants To Know
10. I Will Wait For You
11. Quizas. Quizas. Quizas
12. Les Feuilles Mortes (Autumn Leaves)
13. The Summer Knows
14. Corcovado (Quiet Nights Of Quiet Stars)
15. The Windmills Of Your Mind
16. Midnight Srtoll
17. I Need To Be In Love
18. La La La Love Song
19. What Are You Doing The Rest Of Your Life
20. Baby Come To Me

This best selection of Laura's previous solo albums from her debut "Introducing" to her eighth 'Semi-Biography' album "Change" was released for promotion of her 3rd time concert in Hong Kong 'At Ronnie Scott's - Live in Hong Kong' held on 20th March 2004. Needless to say, all tracks in this album are marvellous.
From this wonderful album, you can find Laura is really a talent in languages. Apart from English, Laura also shows her subtle flair for languages in her interpretation of her other master hits, to name a few, 'Les Feulles Mortes' in French, 'Historia De Un Amor', 'Abrazame', 'Besame Mucho' and 'Quizas, Quizas, Quizas' in Spanish and 'Disse Alguem' (All of me) in Portuguese.
Pulling together some of the most impressive works of Laura, this gorgeously packaged album certainly provides an excellent excuse to revisit Laura's classic hits ranging from jazzy ballads, evengreeen standards, bossa nova tunes, Japanese themes, Latin beats to poppy hits, like 'Don't It Make My Brown Eyes Blue', 'Dream A Little Dream', 'The Summer Knows', 'I Will Wait For You', 'What Are You Doing The Rest Of Your Life', 'The Lady Wants To Know', 'Corcovado', 'How Am I Supposed To Live Without You', 'Eterntal Flame', 'I Need To Be In Love', 'La La La La Love Song' and 'Midnight Stroll'. It's focus on the atmosphere of the music will travel across cultures and communicaties transcending boundaries.
If you were a fan of Laura, no doubt you've already got this perfect collection. If you were a newcomer, it's easy to discover what you might have missed the first time and rediscover those hard-to-find favorites all over again. You'll find this excellent collection enhance your listening pleasure an enrich your music world. This album is most definitely worth its weight in platinum. To the Greatest Dutch Jazz Diva - Laura, I love you. --- Miss Chilly Hung, amazon.com
download (mp3 @192 kbs):
uploaded yandex 4shared mega solidfiles zalivalka cloudmailru filecloudio oboom
Zmieniony (Niedziela, 11 Styczeń 2015 17:13)