Norah Jones - …'Til We Meet Again (2021)
Norah Jones - …'Til We Meet Again (2021)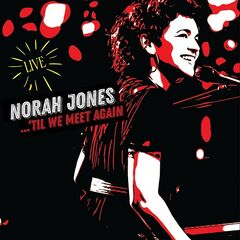 1	Cold, Cold, Heart (Live) 	5:24
2	It Was you (Live) 	5:37
3	Begin Again (Live) 	4:16
4	Those Sweet Words (Live) 	3:50
5	I've Got To See You Again (Live) 	7:33
6	After The Fall (Live) 	5:33
7	I'll Be Gone (Live) 	4:48
8	Just A Little Bit (Live) 	5:29
9	Falling (Live) 	4:35
10	Tragedy (Live) 	5:04
11	Sunrise (Live) 	4:32
12	Flipside (Live) 	6:47
13	Don't Know Why (Live) 	5:05
14	Black Hole Sun (Live) 	7:11

Acoustic Guitar – Jesse Harris (tracks: 9)
Alto Flute – Jorge Continentino (tracks: 8)
Double Bass [Upright Bass] – Christopher Thomas (tracks: 1, 3 to 5, 13), Jesse Murphy (tracks: 4, 9, 11)
Drums – Brian Blade (tracks: 1 to 13)
Electric Bass – Christopher Thomas (tracks: 2, 6), Jesse Murphy (tracks: 7, 8, 10, 12)
Organ – Pete Remm (tracks: 1 to 3, 5, 13)
Percussion – Marcelo Costa (tracks: 4)
Vocals – Jesse Murphy (tracks: 7, 11)
Vocals, Piano – Norah Jones

'Til We Meet Again, the first live album released by Norah Jones, collects highlights from the tours she gave in the wake of the 2016 release of Day Breaks. The 14 songs on 'Til We Meet Again were recorded between 2017 and 2019, taken from performances given in the United States, Italy, France, Brazil, and Argentina. To Jones' credit, the album doesn't feel like it was cobbled together from different sources. The music flows easily, with Jones taking the time to stretch and solo, playing with her vocal phrasing just enough to enliven older songs and give newer tunes a lift. There are some overt surprises, such as a closing cover of Soundgarden's "Black Hole Sun" that was given a week after Chris Cornell's 2017 death at the same Detroit venue where the band played their last show, but this isn't an album that upends expectations. Rather, it's a testament to the enduring elegance of Norah Jones' jazz-pop while also offering proof of the depth of her songbook. ---Stephen Thomas Erlewine, AllMusic Review
Norah Jones' has immense global appeal as you'll hear on this live album …Til We Meet Again, her first live album nearly two decades into her highly decorated career. Beyond the nine Grammy awards, Jones is 2020's most live-streamed artist. Yet what might be even more surprising to many is the enthusiastic reaction she receives on this recording from fans in France, Italy, Brazil, and Argentina from performances recorded between 2017-2019. Most tracks have the pianist flanked by Pete Remm on organ, bassist Christopher Thomas or Jesse Murphy, with Brian Blade on drums. Some selections feature guitarist Jesse Harris, flutist Jorge Continentino, and percussionist Marcelo Costa.
Most of the 14 tracks are either composed by Jones or a band member with Remm and Harris factoring in. There are only three covers, one of which is Hank's opening "Cold, Cold, Heart," rendered in a jazz-tinged slowed tempo, faithful to the version that appeared on her 2002 debut Come Away With Me. "Don't Know Why" and "I've Got to See You Again" are also drawn from that album. The setlist spans her entire career with "Sunrise" and "Those Sweet Words from 2004's Feels Like Home;" "After the Fall" from 2012's Little Broken Hearts; and "Flipside" and "Tragedy" from 2016's Day Breaks. In addition, there are five from her recent singles series – "It Was You," "Begin Again," "Just a Little Bit," "Falling," and the Grammy-nominated "I'll Be Gone." The album closes with a powerful solo piano performance of Soundgarden's "Black Hole Sun," a tribute to Chris Cornell recorded at the Fox Theater in Detroit just days after Cornell's death following his performance at the same venue.
Following "Cold, Cold Heart," Jones delivers the organ bathed "It Was You," one of only three tracks from stateside performances. This album reveals Jones' piano skills arguably more so than many of her studio dates. She has frequent opportunities to stretch out, consistently hitting emotive chords and the right notes, often not dazzling but revealing an uncanny rhythmic feel for simple, elegant progressions. From her 2018 performance in France, we hear Blade setting the groove for "Begin Again" as Remm's B3 fills the spaces. Also, from France are two tunes penned by Jesse Harris – the stretched-out, "I've Got to See You Again," with Blade at his finest and Jones in torch mode; and the sultry, soulful piano/organ blend of "Don't Know Why," given a lovely, slightly more mature reading than when first heard in 2002 to, like most of them here, a rousing audience reception.
The December 2019 performance from Rio features exquisite drum work from Blade and a slight change to the overall sound via Jorge Continentino's fluttering alto flute on "Just a Little Bit." It's one of six taken from two performances in Brazil. Others are "Tragedy," rendered with a trio of Jones, Blade, and bassist Jesse Murphy as is the pulsating, ebullient "Flipside' with Jones animated piano spots and Murphy's electric bass. "I'll Be Gone" has the rhythm tandem joining in background vocals. On "Those Sweet Words" Costa joins on percussion and on "Falling," where her piano especially sparkles, Jesse Harris adds acoustic guitar.
The core trio is aboard for "Sunrise" from Argentina while "After the Fall" from Italy features trio with Christopher Thomas on bass. The closing "Black Hole Sun" is the longest and most impactful track on the album and Jones deeply feels it. At the outset, the audience has some misplaced applause and callouts that detract from the melancholic mood Jones strives to create, but the audience soon quiets down and allows Jones to deliver the tune with requisite sentimentality.
Jones' multiple talents, warmth, and versatility have made her one of the most successful artists of the past two decades. This is a summation of some of her best material delivered organically, unfiltered, and stripped down by her core elite bandmates. It's an unquestionably winning combination that will keep Jones' star beaming as bright as it ever has. ---Jim Hynes, glidemagazine.com
... koncertowy album Norah Jones "'Til We Meet Again (Live)" jest jak kojący plaster, uśmierzający ból niespokojnych czasów. Jeszcze się spotkamy. Na prawdziwym koncercie, bez meseczek, bez strachu. Znów zanurzymy się bez obaw w słodycz płynących ze sceny dźwięków - zdaje się mówić artystka.
Po ukazaniu się siódmego albumu studyjnego Norah Jones "Pick Me Up From The Floor" w ubiegłym roku krytyk muzyczny Jarosław Szubrycht napisał, że świat potrzebuje takich artystek jak Norah. Potrzebował jej przed pandemią, a teraz wręcz nie może się bez niej obyć. Choćby walił się świat, jej ciepły, niepowtarzalny głos otula spokojem i nadzieją, że wszystko resztkami trzyma się swojego porządku.
Tak jest również w przypadku ukazującej się właśnie płyty "'Til We Meet Again", będącej pierwszym koncertowym albumem Norah. Już sam tytuł brzmi jak pocieszenie: "jeszcze będzie przepięknie", skończą się lęki, izolacje, a artyści znów zaczną wychodzić na scenę witani aplauzem tłumu fanów.
"'Till We Meet Again (Live)" to album minimalistyczny i stonowany. Królują tu eleganckie dźwięki fortepianu i niepowtarzalny wokal, który Norah zdaje się wydobywać z siebie z niedbałą lekkością i bez większego wysiłku. Słuchacze otrzymają wszystko, czego od artystki oczekiwali, choć niewinne "Sunrise" z płyty "Feels Like Home" (2004) niespodziewanie może spotkać się tu z coverem "Black Hole Sun" zespołu Soundgarden w leniwym, melancholijnym aranżu.
Nastrój ukojenia przerywa nieco wykonanie "I've Got To See You Again" z debiutanckiego "Come Away With Me" (2002) za sprawą silnie zaznaczonego rytmu. Tu na pierwszy plan wybijają się instrumenty perkusyjne i gitara basowa, a głos Norah staje się bardziej drapieżny i wyzywający. Nutę dramatyzmu wzmaga kolejna w setliście piosenka "After the Fall" z "Little Broken Hearts" (2012).
To już prawie 20 lat odkąd Norah Jones zachwyciła świat swoim debiutem. Śliczna, urocza, o egzotycznej urodzie, niemal równieśnica popowych gwiazdek tamtego czasu jak Britney Spears czy Christina Aguilera, pokazała, że będzie tworzyć muzykę na własnych zasadach. Jako piosenkarce i autorce tekstów przy fortepianie bliżej było jej do takich wokalistek jak Tori Amos. Ale Norah Jones była dużo spokojniejsza, nie aspirowała do muzycznej rewolucji, czarowała, łącząc inspiracje jazzem, soulem, bluesem, czasem country.
Jako zdeterminowana 22-latka skutecznie odżegnywała się od wiązania jej kariery z koneksjami rodzinnymi. Jest nieślubną córką Ravi Shankara, indyjskiego kompozytora i wirtuoza gry na sitarze (to on uczył gry na tym instrumencie George'a Harrisona, był też jedną z gwiazd legendarnego festiwalu Woodstock w 1969 roku). Relacje z ojcem nawiązała późno. Urodzona 30 marca 1979 roku Norah wychowywała się z matką, Sue Jones, w Dallas w Teksasie. Uczyła się w klasie fortepianu jazzowego na tamtejszym uniwersytecie. Po dwóch latach przeniosła się do Nowego Jorku. Tam zaczęła występować z grupą Wax Poetic.
Jej solowy debiutancki album rozszedł się w 20 milionach egzemplarzy, z czego polowa nakładu sprzedała się w samych Stanach Zjednoczonych, zapewniając "Come Away With Me" status diamentowej płyty. Drugi album w dyskografii artystki, "Feels like Home", już w dniu premiery rozszedł się w nakładzie miliona kopii. Dziś Norah Jones ma na koncie dziewięć nagród Grammy. Jej melancholijno-kojący styl śpiewania bywa porównywany ze stylem Billie Holliday i Niny Simone. W jej głosie jest słodycz w odpowiednich proporcjach przełamana nutą smutku i depresyjności. Zagraniczni dziennikarze szybko okrzyknęli ją wokalistką, która przetarła szlaki takim gwiazdom jak Katie Melua i Joss Stone.
Sama już jako dwudziestoparolatka była jednak świadoma niebezpieczeństw i pułapek, w które łatwo można wpaść, będąc pupilem show-biznesu. "Starałam się cieszyć sukcesem, ale trochę za bardzo obawiałam się, że ten sukces mnie zawłaszczy" - powiedziała w wywiadzie dla "Guardiana". ---PAP, wnp.pl
download (mp3 @320 kbs):
yandex mediafire ulozto solidfiles workupload