Sarah Vaughan – In Hi Fi (1950)
Sarah Vaughan – In Hi Fi (1950)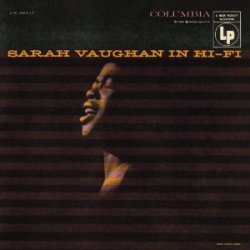 1.East Of The Sun (West Of The Moon)
2.Nice Work If You Can Get It 
3.Come Rain Or Come Shine 
4.Mean To Me 									play
5.It Might As Well Be Spring 
6.Can't Get Out Of This Mood 
7.Goodnight My Love 
8.Ain't Misbehavin' 
9.Pinky 
10.The Nearness Of You 
11.Spring Will Be A Little Late This Year		play 
12.Ooh What'cha Doin' To Me 
13.It's All In The Mind 
14.The Nearness Of You, Alternate Take 
15.Ain't Misbehavin', Alternate Take 
16.Goodnight My Love, Alternate Take 
17.Can't Get Out Of This Mood, Alternate Take 
18.It Might As Well Be Spring, Alternate Take 
19.Mean To Me, Alternate Take 
20.Come Rain Or Come Shine, Alternate Take 
21.East Of The Sun (West Of The Moon, Alternate Take 
22.Pause track

Personnel: 
Sarah Vaughan (vocals); 
Hymie Schertzer (alto saxophone); 
Artie Drelinger, George Kelly, Budd Johnson (tenor saxophone); 
Stan Webb (baritone saxophone); 
Russ Bazer, Harold Feldman (saxophone); 
Billy Butterfield, Taft Jordan, Miles Davis, Jimmy Maxwell, J. Milazzo, Red Solomon (trumpet); 
Will Bradley, Bennie Green, Jack Sattersfield (trombone); 
Tony Scott (clarinet); 
Jimmy Jones (piano, guitar); 
Lou Stein (piano); 
Al Cailoa, Freddie Green, Mundell Lowe, Art Ryerson (guitar); 
Eddie Safranski, Billy Taylor, Jr., Frank Carroll (bass); 
Cozy Cole, J.C. Heard, Terry Snyder (drums).

The title was heralding the newest technolgy, high fidelity, a sonic wonder that preceeded stereo, and Miss Vaughn was an early subject of this technoligical breakthrough. Recorded for Columbia spanning the years 1949 to 1952, this is a wonderful recording of Miss Vaughn's. Not recorded as an album, this a collection of recording sessions. That was the style of the day, Sinatra recorded specific albums with themes, but most of the other artists of that era just went into the studio and laid down tracks. There are 22 tracks on this re issue (original release date 55)(several of the takes are alternate versions) many of the tunes have Miles Davis as a session player and numerous other jazz notables. The majority of the selections are ballads and Sarah brings them all to life in her inimitable style. Sarah in Hi-Fi is a worthy addition to your musical library. Long Live Sarah. ---Marc Flanagan, amazon.com
Recorded between December 1949 and December 1952. Includes liner notes by Phil Schaap and Dick Katz. Digitally remastered by Matt Cavaluzzo and Debra Parkinson at Sony Music Studios, New York, New York.
Even though Sarah Vaughan recorded for Columbia between 1949 and 1952, only 2 LPs were culled from the many tracks she produced during this period: the strings-only AFTERHOURS and SARAH VAUGHAN IN HI-FI, a more jazz-oriented collection featuring a young Miles Davis and tenor player Budd Johnson among others. These are among Sarah's finest recordings - the stellar accompaniment reminiscent of the Teddy Wilson small groups backing Billie Holiday on her Columbia recordings of the 30s. Here the still youthful Sarah applies her technical mastery to jazz classics like "East Of The Sun," "Come Rain Or Come Shine" and "The Nearness Of You," complete with startlingly elastic phrasing and sheer loveliness of voice. ---cduniverse.com
Most of Sarah Vaughan's Columbia recordings were on the commercial side, but not the memorable selections on this wonderful CD reissue. She recorded eight selections in 1950 with an octet that included trumpeter Miles Davis, trombonist Benny Green, the remarkably cool clarinetist Tony Scott and tenorman Budd Johnson. This CD adds alternate takes to seven of the numbers, increasing the discography of both Sassy and Miles. This version of "Ain't Misbehavin'" is a true classic (with memorable eight-bar solos by each of the four horns); "Mean to Me" and "Nice Work If You Can Get It" are gems, and the other performances are not far behind. In addition, Vaughan sings two versions of "The Nearness of You" in 1949; there is also a previously unknown recording of "It's All In the Mind," and three orchestra numbers from 1951 and 1953 wrap up the outstanding reissue. Sassy has rarely sounded better. Highly recommended. --- Scott Yanow, Rovi
download (mp3 @320 kbs):
uploaded yandex 4shared mega mediafire solidfiles zalivalka cloudmailru oboom
Zmieniony (Piątek, 17 Kwiecień 2015 09:41)