Pietro Tonolo & Danilo Rea ‎– Sotto La Luna (1999)
Pietro Tonolo & Danilo Rea ‎– Sotto La Luna (1999)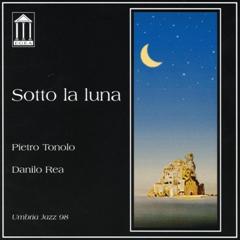 1 	Ah, Cosa Non È Stato... 	5:15
2 	Lento 	6:01
3 	Primedonne 	8:13
4 	Fast 	5:57
5 	Occhi 	6:58
6 	Dromedario 	7:55
7 	Bizze 	5:42
8 	Never 	5:23

Pietro Tonolo - Tenor Saxophone, Soprano Saxophone
Danilo Rea - piano

They are not well known beyond the borders of their native country (although Tonolo has played with the likes of Gil Evans, Paul Motian and Gil Goldstein, and Rea with Lee Konitz, Chet Baker and Aldo Romano), but Tonolo & Rea are celebrities in Italy. It doesn't take more than a few bars played by this duo to hear why. Where do you find a tenor player with a mellower yet still powerful sound? Where do you find a pianist with such touch and harmonic sensitivity? What's also fascinating is that, as with many other Italian musicians, lyricism seems to come naturally to this pair. They can pen a tune with all the characteristics of a popular Italian melody, such as this track, yet never sound corny when they tackle it, whether playing the theme or improvising countermelodies. That's what one calls good taste. And, even if it also exists in other spheres (cooking, wine, clothes, etc.), you've got a good chance to find it aplenty within a triangle that encompasses Turin, Naples and Venice.
Pietro Tonolo, b. 30 May 1959, Mirano, Venice, Italy. Tonolo is one of the most interesting of the batch of Italian musicians broadly grouped under the umbrella of La Nuova Onda (new wave) of the late 80s. Although he took piano lessons at seven and studied the violin between the ages of 10 and 18, Tonolo taught himself saxophone at 16 and has developed an individual voice on the alto. He began in jazz rock bands then moved over to jazz, getting his first job with his pianist brother, Marcello, in 1978. At the end of 1981 he joined Enrico Rava's band and in 1982 toured with Gil Evans. He has also played with Franco D'Andrea, Massimo Urbani, Luigi Bonafede, Roswell Rudd, Kenny Clarke, Jimmy Owens, Sal Nistico, Lee Konitz, George Lewis and Barry Altschul, and has worked in a duo and quartet with Rita Marcotulli, a collaboration that has produced some highly inventive and adventurous improvisation. ---allmusic.com
Finalmente reimpreso este caramelo del catálogo Egea Records con el título Sotto la Luna. El dúo Tonolo-Rea presenta, en línea con las elegante producciones de Egea, una música de una exquisita fineza y de absoluta lucidez ejecutiva, al servicio de un diálogo íntimo, casi de conversación reservadas y nocturnas, en el que predominan el empleo de los claroscuros y la limpidez expositiva.
Músico de talento excepcional, activo y ecléctico, Pietro Tonolo es uno de los músicos de jazz italianos más conocidos en el mundo. Ha tocado con nombres importantes de la música afro-americana de los últimos treinta ańos.
Requerido en el ámbito pop, ya sea en las salas de grabación como en los conciertos en directo, Danilo Rea es desde hace más de diez ańos el pianista de confianza de Mina, y colabora con Claudio Baglioni y Adriano Celentano.
El toque pianístico de Rea se hace a veces leve, a veces impetuoso como un río en crecida; los arreglos de las piezas se suceden sin ninguna parada, las melodías se transforman, se siguen, se entrelazan en un juego de armonías milagrosas. La música de Danilo Rea y Pietro Tonolo es todo esto, representando de manera nunca usual o banal, todos los recorridos formativos de su compleja personalidad artística. La técnica se convierte en un medio para poder comunicar de la mejor manera las sensaciones y las emociones personales al oyente, el pensamiento virtual se transforma en arte, el corazón y el alma se convierten en parte integrante de aquel flujo difícilmente definible que ata al músico a quien es de la otra parte, en un cambio recíproco de emociones y pasión.
download (mp3 @320 kbs):
yandex mediafire ulozto gett bayfiles